Who to trust at Alliance Trust?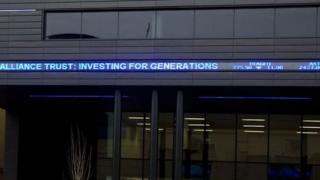 You might not notice the big modern black box on Dundee's West Marketgait unless your eye is caught by the electronic read-out of share prices along its frontage.
It's just across the road from Debenhams and the Overgate shopping centre, but this isn't a building most Taysiders would take in on a day in the city centre.
The people inside - it employs 250 - are keepers of a long pedigree of canny Dundonians.
Founded in 1888, this was where the city's jute barons invested in the empire, and it has retained that global investment outlook up to the present day.
At the start of last month its savings arm had £6.9bn of assets under management, while its investment division had attracted £1.9bn of third party funds. From that, the biggest stock picks included Visa, Walt Disney, Prudential and Google.
That history is one reason why it has an unusual ownership structure. Some 70% of the company is owned by around 60,000 shareholders. They don't know how many are local, as many are controlled through nominees, but it's probable that a lot have Tayside connections.
The average shareholding is held for 23 years. And the chairwoman of Alliance Trust, Karin Forseke, says she recently met a young man who is the fifth generation in his family to have his shareholding.
So for Dundee and these shareholders, the battle over Alliance Trust is more than just another battle for corporate control.
Vulture fund
But for Elliott Advisers, the American-based hedge fund, that's exactly what it is. It's about creating value for shareholders, and doing so rather aggressively. The shareholder sees Alliance Trust as a company which is vulnerable for having under-performed, according to the market benchmarks of choice.
This is how institutional investors work, and hedge funds do so with turbo-charged debt funding and very short term horizons. But Alliance Trust sees Elliott as on the extreme end of hedge funds. Indeed, some see it as having invented the vulture fund phenomenon, preying on assets in distress.
Refusing to accept a reduced payout on the Argentinian bonds it held in 2001, when the country defaulted, Elliott fought the Buenos Aires government in US courts, and even won a court order to have one of the country's warships seized on a visit to an African port in a bid to enforce a judge's ruling.
The rewards can be breathtaking. In the most recent set of accounts, the top paid director of Elliott Advisers in London had earnings of £38m.
So these people are serious when they come after Dundee's financial flagship. As the largest single shareholder, having built up 12% of the stock, they are putting a proposal to shareholders at the annual general meeting next Wednesday in Dundee, to appoint three new directors.
They haven't made clear what these directors would do. And Alliance Trust responds that they don't look independent, when Elliott headhunted them, and then threw down this gauntlet with a series of strong criticisms.
Activist investor
These include claims of under-performance over recent years, of failing to inform shareholders when senior fund managers were replaced, of having too high a cost base and rising, and of chief executive Katherine Garrett-Cox getting a £1.34m pay packet for last year.
Alliance Trust directors claim that Elliott has told them it wants to partially liquidate the fund assets, selling off 40%. Elliott denies this.
It also seems likely that Elliott would push for the funds to be put out to larger, more conventional, more efficient fund managers, geared to delivering short-term results. Martin Gilbert, at Aberdeen Asset Management, has said in the past that he would be interested in doing so.
It's worth noting also that Alliance Trust is no stranger to this kind of activist investor. Laxey Partners came after the Garrett-Cox operation four years ago, putting pressure on it to close the 'discount', which in fund management is the difference between the value of the firm and the (higher) sum of the parts of its investments.
Back or forward?
I met Karin Forseke at their Edinburgh office, for an interview being broadcast this weekend on BBC Radio Scotland.
Her take on performance has a different time frame and a different benchmark from Elliott. The board's aim is to be at the top of the second quartile of a pack of 33 comparable asset managers around the world.
"It hasn't always been performing where we wanted," says the London-based Swede, 35 years in the industry and a former deputy chairman of the Financial Services Authority. "But at the moment, we are performing as we want to to."
And on the timeframe, she suggests looking ahead rather than backwards, to see what Alliance Trust could become.
It has two developments which have been struggling to find their feet financially - an online savings platform and a third party asset management arm. Elliott sees both of them as a drag on the fund.
For the chairwoman, they are key to a seven year programme to get the Dundee firm to the end of this decade in a niche for the long-term investor, focussed on backing companies with sound ESG credentials - environmental, social and governance.
Racier investment
Indeed, the Trust which prides itself on picking stocks with good governance behind them is itself facing criticism of its own governance.
"I feel for our shareholders, because of the amount of noise in numbers and words out there - how do you decipher amongst all that?" she says.
"You can always find a racier investment than Alliance Trust. We aim to deliver dependable return for our shareholders.".
"At the end of the day, the decision they're taking is one about trust. Who do they trust to drive this organisation forward for the next 127 years?"
Forseke says this is about a number of choices, one of which is the short term versus the long term: "We are long term, and I think: what is your end game, what do you want to achieve?
"This particular activist (Elliott) wants an exit from their holding. They're not long-term. They seek opportunities. And they saw this, maybe misjudging that this is long term.
"I feel for our shareholders, because the amount of noise in numbers and words out there - how do you decipher amongst all that.
"Complete speculation"
In a statement from Elliott Advisers, it is claimed that shareholders would have done better to invest, more cheaply, in the stock market back in 2008. It read: "The board's failure to address this persistent poor performance and spiralling costs demonstrates a failure to challenge the status quo."
Elliott cites support from advisers to activist investors, and amid the bitter exchanges, Elliott claims "many of the company statements are either not true, misleading or complete speculation".
Karin Forseke wasn't willing to speculate on the outcome of the shareholder vote.
It depends on institutional investors, who keep their decisions private until close to the AGM. The publisher DC Thompson, another Dundee institution, which owns 6% of Alliance Trust, has broken with that habit and backed the board.
But the key is how many of these 60,000 shareholders are either mobilised to vote, or able to do so, as many votes are controlled by nominees. We'll know the answer on Wednesday.
You can hear the interview with Karin Forseke on Business Scotland at 07.30 on Sunday 26 April, on the BBC iPlayer.