Wood Group PSN announces 80 jobs 'under threat'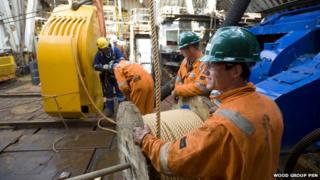 Oil services firm Wood Group PSN has announced that up to 80 jobs at the company are under threat.
The Aberdeen-based firm said it was making the move following a review of its operations aimed at reducing costs and increasing efficiency.
It has launched a consultation with about 380 staff, 80 of whom are expected to lose their jobs.
The company has cut contractor rates by 20% in the last year, and also announced a pay freeze last December.
In a statement, Wood Group said: "We constantly respond to market challenges.
"Wood Group is continuing to take a number of steps to help customers increase operating efficiency, safely improve performance from oil and gas assets and reduce their costs.
"All changes made and proposed are done so in consultation with employees and their health and welfare is our top priority.
"We continue to review our resource requirements to meet our customer needs and service provision to ensure that we are focused on sustaining the business for the long-term."
Wood Group employs about 12,000 people onshore and offshore in the UK.