Alliance Trust strikes deal to avert showdown with Elliott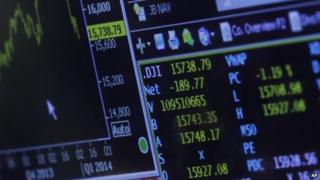 Dundee-based investment firm Alliance Trust has avoided a showdown with its biggest shareholder after a last-minute compromise over boardroom appointments.
Rebel investor Elliott Advisors had called for three of its nominees to be elected to the board at the trust's annual general meeting on Wednesday.
Elliott, which has a 12% stake in Alliance, had claimed the company was under-performing.
But a deal was reached after Alliance agreed to appoint two Elliott nominees.
Alliance Trust had claimed that the challenge to its board from the US hedge fund threatened its existence.
It launched a defence, claiming the three men Elliott had put forward could not be seen as independent and could exert undue influence in Elliott's favour.
---
Analysis: Douglas Fraser, BBC Scotland business and economy editor
It's been a classic battle for influence in Alliance Trust's boardroom, and by accepting two of the three directors that Elliott wanted on the board, it looks like the trust couldn't be sure it had enough votes at this week's AGM.
Elliott's agreement to stand back for at least a year gives the women at the top of Alliance Trust time to show their strategy can work.
What is not clear is how much the new "independent" directors will be pursuing Elliott's strategy. Indeed, it's not clear what that strategy is.
Or will the new directors support Karin Forseke and Katherine Garrett-Cox with their plan, showing more patience than hedge fund investors usually do? The next year could be tense, and should be interesting, in the Dundee firm's boardroom.
---
On the eve of the shareholder vote on the proposed boardroom reshuffle, Alliance agreed to appoint two of Elliott's nominees, Anthony Brooke and Rory Macnamara, to the board.
Alliance said it had "accelerated the process" to appoint another independent non-executive director, in consultation with its major shareholders.
In exchange, Elliott agreed to withdraw its three resolutions from the AGM and committed to support the board and management on all other resolutions.
In a statement, the board of Alliance said: "The board and Elliott have also agreed on certain mutual non-disparagement undertakings and that Elliott will not call a general meeting or seek to agitate against the company, its board or management publicly until after the company's 2016 AGM at the earliest.
Chair Karin Forseke said: "On behalf of the whole board, I would like to express my gratitude to our shareholders for engaging with us on this important issue. Having considered this feedback we have worked with Elliott to find a compromise which we believe is in the best interests of all our shareholders.
"I would also like to welcome Anthony and Rory to the board where their significant experience will be a considerable asset."