Funding for Fife paper firm closure task force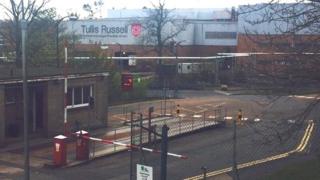 A task force set up following the collapse of a Fife-based paper maker will receive £6m funding from the Scottish government.
Markinch-based Tullis Russell went into administration on Monday with the loss of 325 jobs and a further 149 at risk.
The firm had been hit by rising raw material costs and had seen falls in European exports.
Deputy First Minister John Swinney said the cash would help boost economic growth in Fife.
Mr Swinney is expected to meet staff and management at the plant this afternoon.
The task force, jointly chaired by Mr Swinney and Fife Council leader David Ross, will hold its first meeting on Thursday.
Mr Swinney said: "This is a very anxious time for the workers at Tullis Russell, their families and indeed the wider community across Fife.
"Particularly in a small town the size of Markinch, the potential impact of these job losses cannot be underestimated."
"We are therefore making an immediate and initial financial investment of £6m to support the work of the Fife taskforce. This money will provide additional support for skills development, training and support for local businesses.
"We will work with Fife Council to ensure these additional resources complement existing activity and support economic growth in this part of Fife."
Losses
A new biomass plant was officially opened at Tullis's Markinch site last month.
The £200m facility was built by German energy firm RWE and was designed to meet all of the paper maker's electricity and steam requirements.
RWE said in a statement that the power plant could run independently of Tullis Russell, and would continue to operate.
Administrators KPMG said 325 Tullis employees were being made redundant with immediate effect, while the remaining 149 have been retained to complete some orders.
Employee-owned Tullis was founded in 1809 and produced high quality paper board for use in cards, covers and premium packaging.
The paper maker has incurred cumulative losses of £18.5m over the last five years, largely as a result of weakening demand and pressure on its margins.
Tullis directors had sought a buyer for the company last autumn, but failed to find one.
Tullis Russell Papermakers is a wholly-owned subsidiary of Tullis Russell Group Ltd.
The group's Cheshire-based coating division and its image transfer business based in Ansan, Korea, are not affected by the administration and continue to trade as normal.