Ayrshire butcher secures £250,000 deal with Asda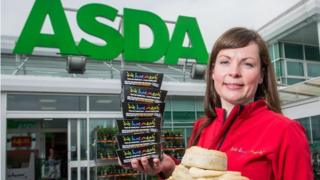 An Ayrshire-based family-run butcher has secured a £250,000 deal to supply a supermarket chain with its new range of single portion pies.
We Hae Meat said the exclusive deal means its pies will be stocked in all 62 Asda stores across Scotland.
We Hae Meat is based at Cairnhill Farm, near Girvan.
It employs more than 50 people and produces a range of meat products using beef sourced directly from the family farm.
Director Carlyn Paton said: ""Through the single portion pie range, we've given the Scotch pie a contemporary makeover, using the kind of flavours and fillings that we - as a young modern family - would like to eat."
Earlier this month, McIntosh of Strathmore won an £800,000 contract to supply all of Asda's Scottish stores with its new range of macaroni cheese pots.
Forfar-based McIntosh, which is part of Strathmore Foods, currently sells about 70,000 macaroni meals a week.
It forecasts the new range will boost annual production of macaroni ready meals to 4.4 million.