N-56 outlines plan to 'grow economy' with full tax controls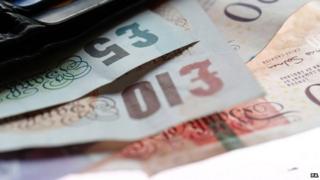 A think tank has published a plan to boost economic growth in Scotland if the full range of taxation powers were to be devolved to Holyrood.
The independence-supporting group N-56, with business backing, says there could be an 86% increase in output within 25 years.
Its plan focuses on improvements in productivity, exports, infrastructure, and innovation.
It also calls for simpler taxation and lower inequality.
Most of these policies are already being pursued, but it is argued that taxation powers at Holyrood could allow more flexibility to develop them.
The Scottish National Party wants to gain full taxation powers for Holyrood, though it has said they would have to be introduced in a phased way.
Closing the deficit
That follows analysis from the Institute for Fiscal Studies (IFS) that the current fiscal position would leave Scotland with a deficit £7.6bn bigger than the share it has of the UK deficit this year.
With lower oil revenue, that is forecast to rise to nearly £10bn over the next five years, at the same time that the main Westminster parties aim to get the deficit down to zero, and into surplus.
N-56, named after Scotland's latitude, argues that the IFS analysis fails to take account of Scotland's potential to increase growth rates as a means of closing the deficit.
Its calculation is that the new growth policies could be put in place within four years, and if everything went well, the 86% growth in 25 years would boost national output to £282bn. This, in turn, would improve tax receipts "by £52bn".
Commenting on the findings of the report, businessman Dan Macdonald, founder of N-56, said: "Opinion polls consistently demonstrate overwhelming support in Scotland for fiscal autonomy and our report outlines how with this, the right economic strategy and collaboration between the public and private sectors we can transform Scotland's economic position.
"Reports from the IFS which have been used as a critique of fiscal autonomy should in fact be viewed as a damning indictment of the current economic model, and if the model isn't working it clearly needs fixing."
Graeme Blackett of economic consultancy BiGGAR Economics, which compiled the report, said: "There is considerable scope and opportunity to increase growth in the Scottish economy with an economic strategy that is based on Scottish needs and opportunities and we need to recognise fiscal autonomy as an opportunity not a threat
"As well as the economic and social benefits for Scotland, this growth would also benefit the UK as a whole since it would rebalance the UK economy."