Clydesdale Bank credit rating 'likely to be downgraded'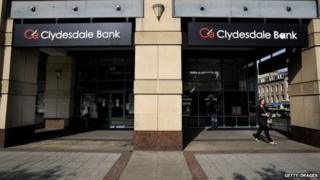 Clydesdale Bank has been told it is likely to have its credit rating downgraded after being de-merged from its Australian parent company.
Fitch, one of the big ratings agencies, has put the Glasgow-based lender on 'rating watch negative'.
The decision comes as a result of losing the backing of Melbourne-based National Australia Bank (NAB).
The NAB announced last week that it intends to de-merge Clydesdale, which includes Yorkshire Bank.
If it gets approval from regulators, it will then float it on the stock market in London by the end of the year, while offering most shares to existing NAB shareholders.
The Australian bank has supported Clydesdale Bank through difficult times with capital injections and by taking over its troubled commercial property loan portfolio.
Fitch's assessment notes that NAB has said it will further strengthen the Clydesdale Bank's capital base. It will also guarantee the first £1.7bn of repayments, costs and fines for mis-selling financial products.
The ratings agency reported the current rating is driven by the bank's "low-risk profile, sound asset quality, adequate impairment reserves and its healthy liquidity and capitalisation".
But it says profitability is modest, due to mortgage loans with low returns for the bank.
It will have to turn to others in the financial markets for re-financing, having relied until the de-merger on NAB. Fitch says it believes this will be "manageable".