Extra funds pledged to address apprentice equality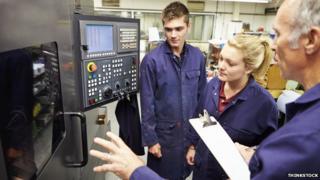 The Scottish government has pledged an extra £500,000 in a bid to encourage equality in Scotland's modern apprenticeship programme.
Skills Development Scotland (SDS) will use the cash to encourage more women, minority groups, disabled people and care leavers to take part in the scheme.
The funding was announced during a Holyrood debate.
The move comes amid concerns about gender segregation in the scheme.
Opposition parties welcomed the extra funding, but MSPs raised concerns about the scale of the problem.
'Gender imbalance'
Labour MSP Siobhan McMahon highlighted figures from 2012-13 showing that 98% of construction apprentices were male, while 97% of childcare apprentices were female.
She said: "SDS have been tasked with addressing the gender imbalance which exists in sectors like construction and health and social care yet this seems to have had little impact.
"SDS's own figures indicate that, as of December 2014, only 4% of engineering apprentices in Scotland were women.
"To ask SDS to take the lead while tackling a societal issue such as occupational segregation and expect them to make great strides seems to me to be a rather optimistic course of action."
Attainment levels
Conservative MSP Mary Scanlon said the difference in the attainment levels of male and female apprentices in the programme also needed to be addressed.
She highlighted figures showing that there was an almost equal number of male and female apprentices at level two while at level five there were 10 times more men than women.
She said: "I do think that this needs to be looked at. It's not just the culture, it's not just the occupational segregation, but it's also the level of achievement."
Skills Secretary Roseanna Cunningham told MSPs that progress had been made on occupational segregation within the modern apprenticeship programme.
She said: "In 2013/14, 41% of modern apprenticeship starts were women compared to only 27% in 2008/09.
"This is good progress but there are still significant gender imbalances that need to be addressed."