Help to Buy scheme closing to new applications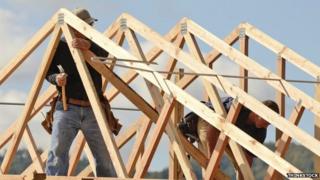 The Scottish government has said its Help to Buy scheme is almost fully subscribed - less than two months into this year's round of funding.
The £130m scheme aims to give people a foot up onto the housing ladder if they are struggling to raise a deposit.
Ministers said there had been been a "bumper level" of sales reservations.
As of midnight on Tuesday 26 May, the scheme will close to new applications, with sales taking place until February 2016.
The Scottish government set aside £100m to fund the main Help to Buy shared equity scheme for larger home builders this financial year, but demand has far outstripped supply.
Those seeking to buy houses in this financial year were able to apply to the fund from July last year, however now the money available has been almost used up.
Under Help to Buy, the Scottish government takes an equity stake of between 10% and 20% of the value of the property which can be repaid at any time.
'Fully subscribed'
The amount to be repaid is based on the value of the property at the time of the repayment.
The Scottish government said more than 7,500 sales involving the two Help to Buy schemes were expected to be completed by the end of this financial year.
Housing Minister Margaret Burgess said: "Participating builders have been informed that the main Help to Buy scheme is nearly fully subscribed and we are giving seven days' notice to allow final applications to the scheme.
"I am pleased sales have far exceeded the industry's original target of 4,500 and given people across the country the opportunity to buy a new-build home which they could not otherwise have afforded.
"We will continue to engage with the house building industry to consider what further support might be required in future."
Last year, the Help to Buy scheme ran out money in July.
The Help to Buy Small Developers scheme, which offers assistance to those buying homes from small and medium sized builders and has £30m of funding available, will continue to take applications until further notice.
Responding to the Scottish government announcement, Scottish Conservative housing spokesman Alex Johnstone said: "For the Scottish government to play semantics with people's home ownership aspirations in this way is utterly contemptible.
"It is unacceptable for the SNP to trumpet a scheme like this, only to hand people a ludicrously short deadline to adhere to.
"All the lip service in the world cannot disguise the plain fact that this SNP government is home ownership averse."
'Game-changer'
Industry body Homes for Scotland expressed frustration that the main scheme was almost fully subscribed.
Chief executive Philip Hogg said: "The Help to Buy (Scotland) scheme has been a real game-changer for our industry, stimulating the construction of much needed new housing following the 40% plus drop in building witnessed since the downturn and creating vital jobs.
"However, it has been clear for many months that the budget was insufficient to meet demand.
"With no details or firm commitment on any future support forthcoming, buyers and builders here are now at significant disadvantage to those south of the border and face months of uncertainty whilst the Scottish government decides whether or not to launch a successor scheme.
"This is the worst possible outcome, threatening any industry recovery that may be underway with the implications for jobs that this brings."