Nigg yard owner Global Energy Group buys marine services firm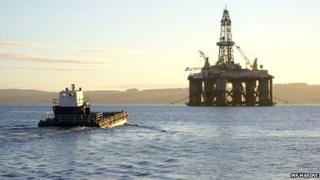 Offshore engineering and fabrication firm Global Energy Group has continued its expansion strategy by acquiring a Highlands-based marine services firm.
Global, which owns the Nigg fabrication yard on the Cromarty Firth, bought MF Marine Operations Ltd in Invergordon for an undisclosed sum.
The firm was acquired through Global subsidiary Caledonian Towage.
MF Marine offers a range of services, including workboat and barge hire, consultancy and project management.
Global said the acquisition was "of strategic importance", given the completion of the West finger jetty and upgrading of the existing south quay at Nigg Energy Park.
'Highly complementary'
Chairman Roy MacGregor said: "The addition of specialist marine personnel and services further strengthens our marine portfolio and adds a fleet of vessels and barges, in a variety of roles, to further complement our existing towage business in the area.
"I am delighted that our capability will now include transportation of cargo and personnel, the supply of potable water and fuel, safety standby cover, crane/lifting platforms, oilrig anchor chain removal/reinstatement, cruise liner and oil tanker mooring, and general harbour duties.
"All of these services are highly complementary to our existing offering and are of great importance going forward as our vision for Nigg becomes a reality, in ensuring the Easter Ross site fulfils its potential as a multi-user energy hub attracting business from international operators."
Two months ago, Global acquired Manchester firm Langfields Limited, which specialises in the use of nickel alloy, titanium and other metals used in the nuclear, pharmaceutical and defence industries.
Global employs more than 4,000 people in the UK and overseas. Its Scottish business includes offices and operations in Inverness and Invergordon.