Two out of five Scottish businesses see activity falling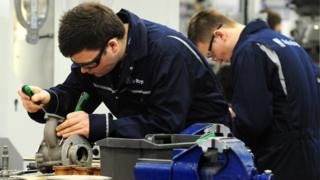 Business activity has been falling for twice as many Scottish firms as those seeing a rise in December to February, according to a new survey.
The study of the private sector shows a similar two-to-one ratio of companies reporting a fall in turnover to those saying there has been a rise.
The oil industry downturn was viewed as one of the main causes.
The newly-created Royal Bank of Scotland Business Monitor found grounds for optimism from company forecasts.
It predicted a modest rebound in turnover and business activity over the next six months.
Service sector firms, on balance, reported a rise in new business. However, the balance was heavily negative for the production sector, which includes manufacturing.
Looking back over winter and across the economy, the survey showed repeat business has fallen for 28% of companies in the survey, and risen for only 12%.
Exports have fallen for nearly two in every five companies, in parallel with other business evidence published over recent months.
Just 17% of firms responding to the survey stated that exports rose during winter, while 39% said they fell, with the negative result worse for production than the services sector.
'Widest gap'
The survey was carried out for RBS by the Fraser of Allander Institute at Strathclyde University, and had responses from 330 companies.
The downbeat results were clearest in north-east Scotland, reflecting the problems of the energy sector there.
Across Scotland, 39% of firms reported the volume of business has fallen, while 21% said it has risen. The gap was the same for production and services firms.
On turnover, 22% of firms responding said that it had risen, while 43% said it fell in the winter months. That is the widest gap Fraser of Allander has seen, from similar survey evidence, since at least 2008, when the economy was in recession.
One in eight firms said costs were falling, and one third said they are on the rise, with a fifth of firms expecting costs to rise in the six months to August.
Investment was down for 30% of those in the survey results, and up for 21% of them.
Stephen Boyle, chief economist at RBS, commented: "These results are disappointing, but not surprising. Slowing growth in the first quarter has largely been visited on Scotland from outside through a combination of the low oil price and weak export demand. Against this backdrop it's encouraging that firms expect a modest rebound in growth over the next six months."
Malcolm Buchanan, chairman of Scottish operations at RBS, said: "The findings echo what we are hearing day to day from our customers - the Scottish economy is experiencing some headwinds, but our customers see opportunities in the long run."