Wood Group and Parsons Peebles buy engineering firms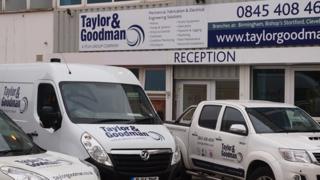 Two Scottish firms have announced acquisitions in the engineering sector.
Fife-based Parsons Peebles Group has expanded its electromechanical services business into the south-east of England.
Parsons, which is part of Clyde Blowers Capital, bought Reading-based Taylor & Goodman for an undisclosed sum.
In a separate deal, Aberdeen-based Wood Group has bought a specialist in sound and vibration technology in the Australian resource sector.
Wood Group did not disclose how much it paid for Perth-based SVT Engineering Consultants (SVT).
Parsons said the acquisition of Taylor & Goodman demonstrated its intention to become "the number one UK supplier of electromechanical services".
The deal increases Rosyth-based Parsons' network of UK bases to 13.
'Excellent presence'
Parsons chief executive Frank Barrett said: "This acquisition gives us excellent local presence in the south east and an impressive list of blue chip clients to add to our growing customer base."
Parsons was bought by Clyde Blowers Capital in January 2013. Clyde Blowers, which is based in East Kilbride, is led by Scottish businessman and entrepreneur Jim McColl.
Meanwhile, Wood Group said Australian firm SVT would operate within the Wood Group Kenny business.
SVT covers the onshore and offshore oil and gas market, including Liquefied Natural Gas (LNG), as well as the mining, power and utilities sectors.
Wood Group Kenny chief executive Bob MacDonald said: "Australia is one of the world's largest producers and exporters of minerals and is on the cusp of becoming the world's largest LNG producer.
"SVT builds on our asset integrity management service line as part of our strategy to enhance our vibration, dynamics and noise capability to support the operational phase of Australia's LNG and mining infrastructure for decades to come."