Wood Group wins £100m Nexen North Sea contract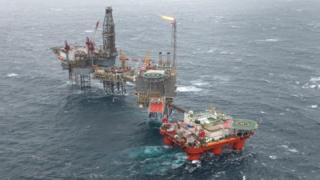 Energy services firm Wood Group has been awarded a five-year North Sea contract extension by oil and gas giant Nexen, in a deal worth more than £100m.
Under the agreement, Wood Group PSN (WGPSN) will continue to deliver operations, maintenance and technical support across Nexen's offshore assets.
They include the Buzzard, Scott and Golden Eagle platforms.
More than 190 jobs will be retained under the contract, which has been running since April 2010.
James Crawford, WGPSN's managing director in the UK and Africa, said: "Working in partnership with Nexen we have proactively added value, maximized productivity and enhanced efficiency and safety across these assets.
"The long-term renewal of this contract demonstrates the success of our relationship and we look forward to leveraging our expertise and strong knowledge of the platforms, towards continued excellence in the service we provide to this key client."
This is the third contract extension WGPSN has secured in the UK Continental Shelf (UKCS) this year.
In April, the company announced a two-year deal with Taqa, extending engineering, construction and maintenance services to five UKCS offshore assets.
In February WGPSN secured an extension to continue supporting Chevron Upstream Europe across four offshore assets in the North Sea.
North Sea commitment
Meanwhile, Nexen, which is controlled by CNOOC, the Chinese National Offshore Oil Corporation, has signalled its commitment to exploration and development in the North Sea.
Production from fields including Golden Eagle and Buzzard accounted for more than 8% of the giant company's daily production during 2015, though less than 3% of its reserves.
It has a 43% stake in the Buzzard oilfield, which produced an average 72,000 barrels per day last year, and a 36% interest in Golden Eagle. They were acquired when it took over Nexen from Canadian ownership.
In its annual report, published on Thursday, CNOOC said it has become the largest crude oil producer in the North Sea. Royal Dutch Shell and Total produce more hydrocarbons, but much of that is gas.
In a regional round-up which includes major operations in waters off China, South America and Africa, it said of its UK North Sea operations: "In the future, we will continue to intensify our efforts in the oil and gas development in the UK, and actively look for potential exploration and development blocks in order to achieve a stable and sustainable development in the region"