Aberdeen firm SeaEnergy in insolvency talks as shares are suspended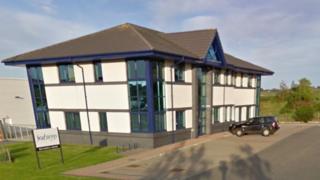 Aberdeen-based firm SeaEnergy has announced it is in talks with insolvency advisers, and has had trading in its shares suspended.
The offshore energy company has tried to find a niche supplying the wind sector, as well as its stake in oil exploration and production.
It says it is now in talks to sell its main asset.
But in a statement, SeaEnergy also said it was running out of time to do so while remaining solvent.
SeaEnergy warned in March that new finance at the end of last year had not been sufficient, and that it had cash constraints due to low energy prices.
It confirmed on Tuesday that it could still be trading into the second half of May, but that it badly needs to raise funds to continue beyond that.
It is in detailed discussions with potential buyers of its Return to Scene software, which helps clients in the offshore energy sector visualise their equipment for remote operations and maintenance.
Shareholder approval
As that sale of its main asset would mean a "fundamental change of business" for SeaEnergy, under stock exchange rules, that would require shareholder approval, and that is unlikely to be possible before the company becomes insolvent.
SeaEnergy, which had more than 50 employees a year ago, has also been hit by a legal dispute affecting Lansdowne Oil & Gas plc, a company in which it holds a 20% stake.
Lansdowne is focussed on drilling off the coast of Ireland. A legal dispute has forced Lansdowne to suspend share trading and to seek new financial support, so the one-fifth stake is not an asset that could raise funds quickly for SeaEnergy.
In a statement to investors on Tuesday, it concluded: "The directors are therefore taking advice from insolvency practitioners. As a result, the company has requested a suspension in trading of the company's shares pending clarification of the financial position."
The firm, which is listed on the Alternative Investments Market of the London Stock Exchange, was previously in the oil exploration business, when it was known as Ramco.
It was then led by Steve Remp, who remains the biggest shareholder, with a 7% stake.