Tech coaching boost for entrepreneurs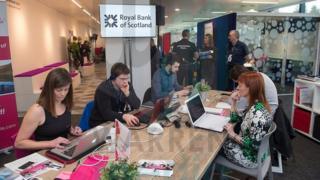 Entrepreneurs are to receive free technology coaching under a new partnership between business incubator scheme Entrepreneurial Spark and IT specialist EMC UK.
The deal will see EMC train, coach and mentor start-ups and entrepreneurs who are supported by Entrepreneurial Spark.
EMC said the deal would create the largest free technology industry accelerator programme in the UK.
Entrepreneurial Spark runs business incubator schemes across the country.
Locations for its "hatcheries" include Ayrshire, Edinburgh and Glasgow, as well as Belfast, Brighton, Bristol, Birmingham, Cardiff, Leeds and Manchester.
Supported by RBS and KPMG, it handles more than 1,000 start-ups and entrepreneurs every year.
EMC is a global business which specialises in IT and business transformation.
'Ecstatic'
Entrepreneurial Spark founder Jim Duffy said: "I'm ecstatic to have EMC on board as we create the UK's largest tech accelerator.
"Our focus is on building the mindset and behaviours of an entrepreneur by focusing their mind, putting them into an environment which pushes their comfort zone, and providing sessions which challenge their thinking.
"EMC's resources and insights will be incredibly valuable to the start-up and entrepreneur community in the months and years ahead."
Ross Fraser, from EMC, said: "This is a great opportunity to combine the talent from established companies like EMC and new start-ups to help encourage business growth and innovation in the UK.
"We want to help share advice which we've learnt over the past 35 years, and inspire the next generation of entrepreneurs."