Firms shed jobs 'at fastest rate since 2010'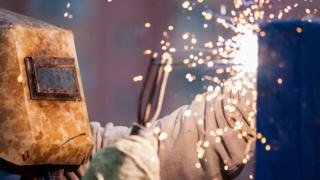 Scotland's private sector firms slowed recruitment last month to the lowest level for more than five years, according to a survey.
The Bank of Scotland purchasing managers' index (PMI) found workforce numbers declined at their sharpest rate since November 2010.
The survey suggested a "broad-based reduction in headcounts" across both goods producers and services firms.
However, output stabilised after contracting in February and March.
The PMI measures changes in manufacturing and services output.
It rose to 50 in April after registering 48.5 in March. That suggests there was neither growth nor contraction.
However, firms reported an increase in work backlogs, indicating slack demand and spare capacity, while manufacturers reported the eighth consecutive month of new orders in decline.
'Weaker demand'
The data also pointed to a further contraction in Scottish manufacturing output. Falling production levels have been reported in each of the past six months, although the latest decline was the weakest during this trend.
According to panellists, the drop in output reflected a combination of weaker demand conditions and the downturn in the energy market.
For the first time in nine months, firms raised their output charges, driven by a sharp increase in average cost burdens.
According to anecdotal evidence, the rise was linked to efforts to match competitors' prices.
Meanwhile, input price inflation was the sharpest for 26 months.
Alasdair Gardner, from Bank of Scotland, said: "Stabilising business conditions were the theme of April's survey data, which is encouraging news for Scotland's private sector after an intensifying downturn over the previous few months.
"However, firms still reported declines in their backlogs of work levels and employee numbers, suggesting that the economy could be poised to return into contraction territory in the near future."
'Mood of insecurity'
A separate report by business advisers BDO has warned that the slowing services industry is "taking its toll" on the Scottish economy
Its latest Business Trends Report suggested business optimism was now at its lowest level in more than two years.
BDO's Output Index - which reflects companies' experience of orders for the coming three months - fell in March, as did its Optimism Index, which predicts growth six months ahead.
Martin Gill, head of BDO in Scotland, said: "These figures show that political and economic uncertainty is affecting optimism among Scotland's businesses.
"The EU referendum, the continued difficulties faced by the oil and gas sector, and the economic difficulties being faced in the eurozone and China are all contributing to a mood of insecurity which is hitting investment and growth plans."