Scottish retailers hit by 'feeble' fashion sales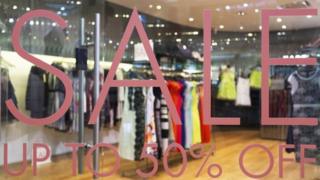 Shop sales fell in Scotland last month as clothing and footwear recorded their weakest performance for eight years, according to retailers.
The latest Scottish Retail Consortium - KPMG monitor found total sales dropped by 3.2%, compared with April 2015.
Sales of non-food items fell by 4.4% - the poorest monthly result in more than three years.
The Scottish Retail Consortium said the performance of clothing and footwear had been "especially feeble" in April.
However, the struggling grocery market fared better - sales dropped only 1.7%, making it the best performing category.
While total sales fell year-on-year in Scotland last month, they remained flat for the UK as a whole.
David McCorquodale, head of retail for KPMG, said the weather played a factor in the drop in Scottish sales, particularly in fashion and footwear.
He said: "In 2015, a sunnier and warmer spell resulted in encouraging sales for spring/summer fashions. This year, however, the weather was cooler and mixed.
"The subdued conditions brought subdued sales and, despite promotions being run by major fashion retailers, it saw consumers making purchases at times when items can be worn rather than simply buying the latest arrivals in the stores."
He added: "Larger ticket sales in the non-food category may have suffered from low consumer confidence and political uncertainty caused by the election and upcoming referendum.
"The grocery market continues to battle the headwinds of deflation and over-capacity, which is positive for the consumer but challenging for the retailers who strive to increase the loyalty of their customers."