News that's fit to print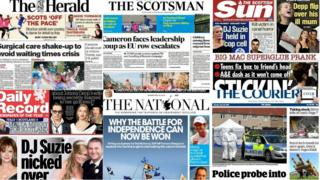 A billion pounds. Quite a tidy sum, and a handily round one too. After 16 pages of calculations, a new study gets to the headline number - the total value that can be placed on the newspaper industry in Scotland.
The actual value added is rather less. In 2015-16, this report puts it at £147m, counting pay, profits and other business income.
A further £40m is added in the supply chain - paying for distribution vans, for instance, as well as property and business rates.
Most of the billion is from the impact of advertising on the wider economy.
There are 164 newspapers published in Scotland, most of that within 13 groups, and most printing done by only three firms.
Survey evidence points to 3,100 people employed in the newspaper industry, three-quarters of them full-time (so there are 2,800 full-time equivalent). Almost half are journalists. Through indirect employment, the impact gets up to 4,300 jobs.
Number crunch, paper scrunch
The numbers have been crunched by Optimal Economics, working on a commission from the Scottish Newspaper Society.
Some are straight-forward. But getting to the billion pound mark requires quite a lot of assumptions: about Scotland's share of the UK advertising market: about the impact of the average pound spent in the industry's supply chain: the value generated by advertising as a source of efficient economic decision-making and innovation.
And behind them is other research; for instance, Ebiquity found that newspaper advertisers gained £1.48 of profit for every £1 spent on advertising. Another project, across European nations, found a return of €1.20 for every €1 spent.
Also, Deloitte inquired across 17 countries into how much changing advertising spend can influence economic growth. It concluded the ratio, in 2012, was £1 of advertising budget to £6 of additional economic output.
To explain, at household level, this research seeks to find the value to consumers of finding out about new products.
Only if an advertising platform puts before potential customers the attractions of a new vacuum cleaner, an innovation in car design, a new brand of food, drink, toothpaste or betting website - only then can consumer choices be steered towards the more efficient, the better value, the more innovative.
So advertising has economic value beyond the actual spend. In Scotland, the value of print advertising is put at £800m.
Going digital
Of course, it's changing for a digital age. Clever data analysts are forever devising methods with which to target you with messages on the website you're viewing.
Locational advertising responds to where you are, steering you to nearby businesses: "Did you know there's a new coffee shop opened up in the back lane two minutes from you? Show the barista this ad on your smart phone, and there'll be a discount for you".
Such ads, even the most local, are often mediated by the tech giants Google, Facebook, Apple and Microsoft. Many news publishers have harnessed that source of digital advertising to original journalism.
And that's why it's very hard to figure out the true value of printed advertising. In trying to big up their influence to client advertisers, newspaper publishers risk confusing the impact of the transition they're trying to make to a digital-first business model.
The newspaper industry, analysed in this report, barely exists any more, at least in any discrete way. It is an increasingly digital industry, and Optimal Economics emphasises that the news media should be counted within the creative and digital sectors.
It says that quarter of employees "are involved in some aspect of digital production". I'm surprised it's not higher.
They are trying to steer the transition from print to digital, taking advertising revenue with them. Audiences have been rising fast, but revenue from advertising to those online and mobile audiences is nowhere near reaching the growth level required to compensate for falling print revenue.
BBC provocation
Johnston Press is the Edinburgh-based owner of The Scotsman. It claims to have 19% of Britain's local and regional press. Its May trading update offered up grim figures: revenue down 14% between January and April, and advertising down 17%.
The digital audience was up 23% on April 2015, yet even so, digital advertising revenue fell 5.7% in the first quarter, before a partial recovery in April.
The problems of the industry are well known, except to those who rely on newspapers to report them. They will struggle to find much. Covering the industry at the BBC is seen as a provocation, amid accusations that broadcasters want to see newspapers fail.
It simply ain't so. As Optimal Economics points out, there is a non-financial value to newspapers as forums for news, ideas, opinion and argument; as a meeting place for communities; with important freedoms to operate in many ways that regulated broadcasters cannot; and as a store of cultural value.
There is clearly competition for online audiences. But broadcasters and society more widely surely need healthy commercial competition from the news stands and online.
Strength and weakness
This economic impact study is intended to show the strength of the newspaper industry, and its importance. And it does. Its most significant practical use is as a marketing tool to deploy with potential advertisers.
Yet the fact that the Scottish Newspaper Society has commissioned it is also a pointer to weakness.
In bygone times, newspaper publishers did not have to draw attention to their economic value. Without doing so, they wielded market power and political influence.
Such reports tend to be commissioned by those with something to prove - lobbying for government support or against taxation.
They are a staple of the news agenda. In recent years, Strathclyde University has put its value added at £528m per year, which can be doubled if you include the potential generated by a single year cohort of graduates.
The BAE shipyards on the Clyde were reckoned by Strathclyde economists to have economic value of £245m annually.
The Scotch Whisky Association says it adds £3.3bn to the Scottish economy, including £528m in salaries for 10,800 direct employees. It's not so clear how much leaves the country in profit.
Golf in Scotland was reckoned, five years ago, to be worth £264m in value added. And shooting (the field sporting variety) sought to fight its elite image with a calculation of £200m annual benefit for the Scottish economy.
Alongside such reckonings, reducing the impact of newspapers to Gross Value Added and induced spending effects runs the risk of diminishing the unique significance of the print media. Whatever it's worth in millions of pounds, it's worth a lot more besides.
Dynamics
The strength and weakness of Scotland's newspaper industry may be raised on Tuesday, as the new SNP administration sets out its business intentions.
But to avoid being seen to favour political favourites, the enterprise agencies are constrained in how much they can support news media businesses.
What MSPs might reflect upon is that this Optimal Economics report lacks much sense of the dynamics at work. To say the newspaper industry is worth £1bn or £147m, depending what you count, is not a figure that means much to most people, except that it's large.
And the dynamics mean that it is probably getting smaller. What you won't find in this report is how much the industry is cutting cost and taking profit, rather than re-investing.
Nor does it break down the numbers showing how Scottish-based newspapers are faring against competitors based in London, with deeper pockets.
Similar reports about different sectors make the salary bill clear, to emphasise spending impact. (Writing as a former newspaper journalist and member of the National Union of Journalists), the level of journalist pay may not be something that publishers wish to publicise.