Iomart works 'in orbit' of big players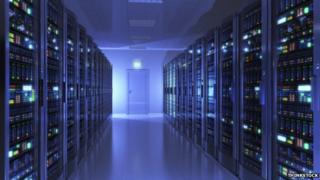 A Scottish cloud computing company is building closer links with Amazon and Microsoft, which have emerged as dominant in the sector.
Iomart, based in Glasgow, continues to run its own data centres, but is working more closely "in the orbit" of the industry's larger businesses.
Its strategy is shifting towards packages of support for businesses as they shift to cloud-based operations.
The company reported revenue growth in the year to March of 16%.
Revenue for the year was £76.3m. Pre-tax profit rose 21% to £13m.
But the annual results highlight the different outcome if acquisitions are taken into account. Adjusted pre-tax profit rose 14% to £19m.
Iomart has won Advanced Partner status working with Amazon Web Services, and aims to make that relationship closer.
It acquired two companies last year, SystemsUp and United Hosting, and has set up a support operation in India for its smaller business clients.
Without the companies it bought, its small business division, EasySpace, saw turnover fall by 8%. That decline is being explained by churn of clients in the market, which Iomart expects to stabilise.
'Long-term growth'
The company has expanded its senior team, with a new director of marketing,
Chief executive Angus MacSween said: "The market for cloud services continues to grow and evolve. It is important to remember that we are still at the very early stages of this opportunity with enormous scope for long term growth.
"More and more applications and workloads are moving to the cloud, data volumes are growing exponentially, the emergence of the Internet of Things is creating ever more data, and alongside this a new generation of users now expect everything to be delivered to them through their mobile device of choice.
"This means an ever growing complexity in the choices and permutations available when forming an IT policy for cloud and we believe that this will drive opportunity for those companies, such as Iomart, who are agile and have the correct skillsets for success.
Orbiting businesses
Commenting on the shift to working alongside the technology giants, he added: "The public cloud vendors led by Amazon Web Services and Microsoft continue to win market share. It is becoming clear that they will require an ecosystem of businesses orbiting them to provide services and support.
"The public cloud has introduced another level of complexity to the choices that businesses have in their future IT buying decisions and we believe with that increase in choice and complexity comes opportunity.
"As underlying infrastructure becomes more mature and efficient the future success of cloud companies will be addressed further towards the application layer and not on the hardware.
"Our challenge is to navigate through these early days of the further evolution of cloud adoption to ensure we have the skills and resources necessary to be successful in that space. The long term opportunity is bigger than ever."