Jobs lost as Dundee engineering firm Galloway collapses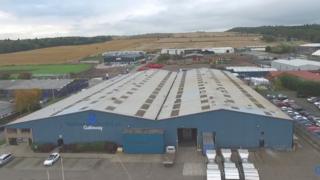 A Dundee-based specialist engineering company has collapsed, with the immediate loss of 160 jobs.
Administrators from EY were called in to Galloway Group, after it ran into financial difficulties.
In a statement, the company said the business had been "under considerable pressure" as a result of the downturn in construction and the oil and gas industry.
A small number of workers have been kept on in the meantime.
Galloway, which first started trading as tinsmiths in Dundee in 1872, specialises in areas such as ductwork fabrication and acoustic enclosures.
As well as Dundee, it has offices in Dewsbury, West Yorkshire.
As a ductwork contractor, it has worked on iconic buildings such as the British Museum in London, Glasgow's Sir Chris Hoy Velodrome and the Scottish Parliament in Edinburgh.
The company's board said in its statement that it had called in administrators following a meeting on Thursday.
'Very sad day'
It said: "The business has been under considerable pressure for a number of years.
"Demand in our traditional construction market has been very weak since 2012 and margins have been significantly reduced.
"In the recent past, the collapse of the oil and gas sector has applied further pressure. This has meant that the business has been loss making and under cash pressure.
"The directors have worked tirelessly, and in good faith, to avoid insolvency through a number of initiatives, including cost cutting, modernising the business offering and raising finance.
"Efforts to raise finance are significantly impaired because of the high debt burden on the business from both previous borrowings and the final salary pension scheme."
The statement added: "This is a very sad day for a long-established Dundee company and our thoughts and best wishes are with the employees and creditors of the business.
"We will continue to work with EY during the administration process as may be required."