Helicopter firm Bristow sees earnings fall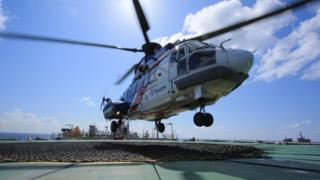 A North Sea helicopter operator has seen earnings from the oil and gas industry fall by more by more than a quarter.
Bristow Helicopters saw its overall revenue for the three months to the end of June fall from $440m (£335m) to $356m (£271m), a 19% drop compared to the same period last year.
Earnings specifically via the offshore industry fell 27%.
Bristow said it was partially offset by its UK search and rescue contract.
The company said: "Our June 2016 quarter results reflect the challenging oil and gas industry conditions that continue to negatively affect offshore activity."