Whisky distilleries attract record visitor numbers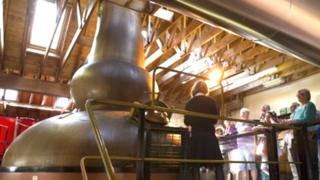 Scotland's whisky distilleries attracted a record 1.6 million visitors last year, according to an industry survey.
The Scotch Whisky Association (SWA) said the figure was 7% higher than the previous year and more than 20% up on 2010.
Total spend at distillery visitor centres in 2015 was about £50m - nearly double the figure for 2010.
About half of Scotland's 118 whisky distilleries are open to the public.
Last year, the largest proportion of visitors came from Scotland and other parts of the UK, Germany, USA and France - reflecting some of the largest markets for Scotch around the world.
SWA deputy chief executive Julie Hesketh-Laird said: "Scotch whisky distilleries offer high quality and unique opportunities to visit the homes of some of Scotland's most famous brands."