Morphsuit makers report loss of nearly £1m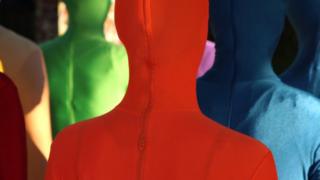 MorphCostumes, the Edinburgh company that specialises in spandex party gear, has reported a loss of nearly £1m.
Revenue was steady, with a rise from £10.1m in the 12 months to May 2014, to £15.2m for the 18-month period to November last year.
Its pre-tax loss rose from £163,000 for 12 months to £967,000 for 18 months as the parent company, AFG Media, changed its reporting schedule.
The company is taking on more staff and investing in new costumes.
The Morphsuits brand was started in 2009.
Much of the company's revenue is from sales at Hallowe'en, which last year were its strongest so far.
Among the most popular costumes were Marvel comics' Deadpool and the Stormtrooper design from Star Wars.
Gregor Lawson, co-founder and director of sales and marketing, said the losses followed investments necessary to grow MorphCostumes into a global business.
"This period saw us launch further market-leading costumes, expand into new territories and launch a broader range of non-spandex costumes globally," he said.
"We believe we have now built the required scale necessary to capitalise on the opportunities available in the wider non-spandex costume market across a number of channels."
AFG Media was founded by Gregor Lawson alongside brothers Ali and Fraser Smeaton, who gave up jobs in finance and marketing to pursue their business ambitions.
In 2012, the firm secured funding from the Business Growth Fund (BGF), a consortium of the big high street banks, to help its expansion and exports.
Ben Barker from BGF, who has a seat on the AFG Media board, said: "The global retail party goods market is worth as much as $10bn each year.
"By continuing to invest in the MorphCostumes brand and products, the team at AFG Media are demonstrating that they are as ambitious as ever and they are building a company that is well positioned to grow its slice of this exciting sector."