Oil exploration firm EnQuest reports steep decline in its costs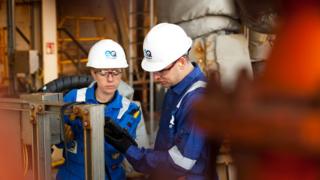 EnQuest, the independent oil exploration and production firm, has reported a steep decline in its costs.
The company said the drop was helped by the weakening value of sterling.
However, it is seeking changes to its debt conditions as trading in the sector continues to be "challenging".
In its half-year results, the firm said the weakening of sterling against the dollar, if maintained, should ease its costs by $30m to $40m (£22m to £30m) in both 2017 and 2018.
Based in London and Aberdeen, it accounts in US dollars, but many of its costs are in pounds.
EnQuest - the UK's biggest independent producer - has driven down the costs in its supply chain, with operating expenditure lower by $16.7m.
With a big increase in production of oil across its 29 UK licences, boosted by the start of the Alma-Galia central North Sea fields, it has brought the cost per barrel down to $23, ahead of target.
North Sea output rose in the first half of this year to a daily average of 33,000 barrels of oil, or its gas equivalent, from 22,000 barrels in the first half of 2015. It has much lower output in two Malaysian fields.
The Alma-Galia fields are expected to rise from 6,000 barrels on average in the first half of this year to around 43,000 barrels for the full-year.
Capital expenditure is being reduced by $30m per year, to the $670m to $720m range.
That is while EnQuest negotiates for a sale of 20% of the Kraken field, in the UK North Sea east of Shetland, to Delek Group, based in Israel.
Kraken is due to come on-stream in the first half of 2017, as one of the biggest new projects in UK waters. The cost of getting it to production is now put at $2.6bn, down by $575m on the original estimate, as EnQuest has driven down supplier costs.
The company has seen debts rise from $1.55bn at the end of last year to $1.68bn at the end of June.
Funding structure
With its half-year figures, it said it was "holding constructive discussions with its main debt and credit providers" to ensure adequate liquidity. These include changed funding structure, the covenants or conditions on loans, interest payment obligations and debt maturities.
Amjad Bseisu, the chief executive of EnQuest, said: "With very substantial structural reductions in our cost base already delivered, the long-term potential of EnQuest's business model remains compelling. The overriding priority continues to be delivering a business which is robust in this challenging environment."
The company share price fell nearly 3% following publication of the half-year results.
In a separate announcement, EnQuest said its chairman Dr Jim Buckee, 70, was standing down after six years in the role.
He will be replaced by Jock Lennox, a non-executive director, who was a partner at Ernst & Young until 2009 and is also on the boards of Carphone Warehouse and Oxford Instruments.