Dalzell steelworks in Motherwell close to reopening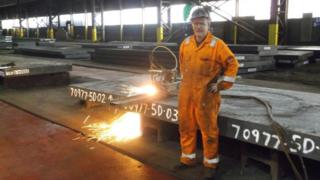 The reopening of a mothballed steelworks moved a step closer as a newly-recruited workforce began preparatory works.
It was the first production activity to take place at the Dalzell works in Motherwell in 10 months.
The plant was mothballed by Tata Steel before being taken over by Liberty House in April.
The firm said it had employed 110 people and planned to restart formal production on 28 September.
Its recruits include former employees who have returned to the steel processing mill, and a number of apprentices.
They are "getting close" to the number needed to recommence operations, according to a statement from Liberty House.
A total of 270 people had been employed at the mills before Tata's decision to mothball them.
Liberty House said the plant had already secured a number of orders and 10,000 tonnes of slab had been delivered from the British Steel works at Scunthorpe.
Earlier this year, it emerged that the plant will make steel plates for wind turbine towers.
This week, workers have begun cutting steel slabs in readiness for rolling into plate steel, which is used in the construction, vehicle manufacture and energy sectors.
Jon Bolton, of Liberty Steel UK, said: "We're getting very close to the point where we can start making steel plate at Dalzell once again.
"With the start of slab-cutting this week and, with excellent progress being made on recommissioning of the rolling mill, we are right on target to keep our promise to have the works fully operational again in the autumn."