Halloween fails to rescue sales figures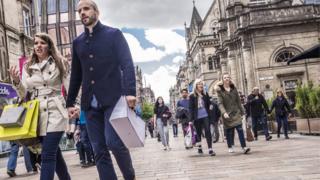 Retailers experienced "hard times" in October after a 0.8% fall in sales compared with October 2016.
While the value of food purchases notched up 4.9%, the rise was put down to higher prices rather than increased consumer demand.
The gap between food and non-food sales also grew, with a 5.2% decline in non-food sales, their lowest level since January 2012.
The figures were produced by the Scottish Retail Consortium and KPMG.
'Less optimism'
Ewan MacDonald-Russell, head of policy and external affairs at the consortium, said: "Halloween wasn't enough to stave off hard times on the high street for non-food retailers who suffered the most challenging month's performance in almost five years.
"Overall, even continued strong food sales weren't enough to rescue October's figures, with overall Scottish retail sales dipping in real terms by 0.6%.
"The gap between grocery and non-food sales continues to grow. Food sales are still relatively strong, although still being partially being driven by inflation.
"However, on the high street there will be less optimism, with clothing and electrical lines struggling in October."
Mr MacDonald-Russell said November would be a crucial month for those high street retailers with Black Friday promotions.
Craig Cavin, head of retail in Scotland for KPMG, added: "Unseasonably mild weather, coupled with Black Friday looming and limited promotional activity in October, meant retailers failed to persuade customers to open their wallets.
"However, with colder weather setting in and the usual Christmas boom fast-approaching, autumn and winter ranges will have greater appeal. Big ticket electrical launches timed for Christmas will also play a role in recovering non-food losses."