Thomas Tunnock sees profits hit by rising costs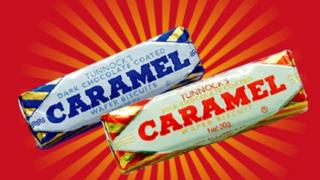 Scottish confectionery firm Thomas Tunnock has posted a sharp drop in pre-tax profits, after being hit by a rise in the cost of ingredients.
The Lanarkshire-based maker of teacakes and caramel wafers saw profits fall from £7.1m to £4m in the year to 25 February.
Sales were also down by 0.9%, at £52.6m.
In a statement, Tunnock's said it had had to "meet the challenges" of the increased cost of commodities.
It also cited a "slight disruption" to production as a result of new plant being installed in its Uddingston factory, but added that it was now "back on track".
The company also reported that a 20,000 sq ft extension to increase production capacity was progressing well and should be operational by mid-2018.
The project is being self-funded by Tunnock's and will create an unspecified number of new jobs.