Scottish new car sales decline sharply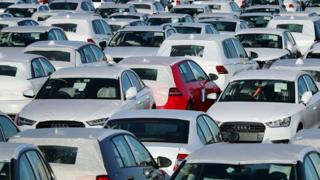 Sales of new cars in Scotland were dented last year, with a fall of 8% in registrations to 203,300.
The stalled market was more of a problem for diesel-fuelled cars, down by 17% to 80,000 registrations.
The decline was steeper for Scottish car dealers than for the UK as a whole, according to the Society of Motor Manufacturers and Traders (SMMT).
The decline in new car registrations was most apparent towards the end of the year.
Comparing December 2017 with the year before, Scottish sales were down 24% while they dropped 14% across the UK.
New registrations of diesel dropped last month by 35% in Scotland.
The number of hybrid or electric cars was up from 3,837 in 2016 to 6,565 last year. Of them, more than 900 were all-electric cars.
The top selling brand last month was the Mini, but over the year, the biggest seller was the Vauxhall Corsa, with 8,300 registrations during 2017, with the Ford Fiesta after that, on 6,800