Carillion collapse: Contingency plans 'in place' for Scottish projects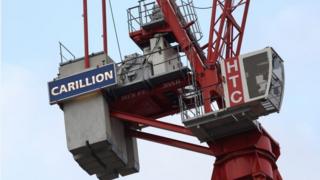 The Scottish government has said contingency plans are in place for contracts affected by the collapse of construction firm Carillion.
Ministers said the plans included the Aberdeen Western Peripheral Road (AWPR), which is being built by a consortium which includes Carillion.
The government said the contract had "a mechanism" for the other joint venture partners to deliver the project.
Carillion went into liquidation on Monday after running up huge debts.
The construction firm is involved in several infrastructure projects in Scotland, including the electrification of the central Scotland railway line and the extension of platforms at Edinburgh's Waverley Station.
It also has several major contracts for managing public facilities, including West of Scotland Housing Association.
The Scottish government said it was in discussions with the liquidators and the UK government "regarding the measures they intend to put in place regarding private sector, Network Rail and UK government-backed contracts in Scotland to support Carillion employees and to secure the completion of these contracts".
Economy Secretary Keith Brown said the Scottish government had been "working to manage or eliminate risks associated with Carillion's difficulties" since July last year.
He said the government expected work on the AWPR to continue.
The other two members of the consortium building the bypass have said they expect to take a financial hit from Carillion's collapse.
Project 'shortfall'
In a statement, construction firm Galliford Try said: "The terms of the contract are such that the remaining joint venture members, Balfour Beatty and Galliford Try, are obliged to complete the contract.
"Our current estimate of the additional cash contribution outstanding from Carillion to complete the project is £60m-80m, of which any shortfall will be funded equally between the joint venture members."
It added: "The companies will discuss the position urgently with the Official Receiver of Carillion and Transport Scotland, to minimise any impact on the project."
Balfour Beatty, which has been working with Carillion on three major projects, including the bypass, said Carillion's collapse could cost it up to £45m.
Meanwhile, Mr Brown spoke to Scottish Secretary David Mundell on Monday morning, while his officials talked to the accountancy firm advising the liquidators "to establish the situation".
Mr Brown added that "should it be necessary, we stand ready to support for any affected employees through our Partnership Action for Continuing Employment (PACE) initiative which aims to minimise the time individuals affected by redundancy are out of work".
The UK government has said it will provide funding to maintain the public services run by Carillion.
'Action needed'
However, Labour MSP Jackie Baillie said the news was set to have a huge impact on jobs and contracts in Scotland.
She tweeted: "Scottish and UK Government need to take action to protect jobs and services. Need to know extent of exposure in Scotland both for construction and facilities management projects across public sector."
The union Unite has warned that it is set to take legal action, claiming that Carillion breached its legal obligations to give notice of redundancies.
The union's Scottish secretary, Pat Rafferty, said: "Given today's drastic events it's clear that Carillion was legally obliged to give notice to the workforce in December of the possibility of redundancies.
"It hasn't done that, so Unite is taking advice about legal action to secure the pay and pension rights of our members.
"Obviously saving jobs is the priority but we also have to make sure that workers don't pay the price for what is boardroom recklessness."
In other developments, West of Scotland Housing Association said it had been working with Carillion over several months to transfer repairs and maintenance contracts to another facilities management company.
It added: "We want to assure our tenants and owners that we are working towards a smooth transfer of services which will mean they will not be adversely affected by the recent announcement made by Carillion."
The Scottish Building Federation (SBF) urged the Scottish government to "ensure that appropriate lessons are learned" for future decisions on the procurement of large-scale construction projects.
SBF president Stephen Kemp said: "The news that Carillion has now gone into liquidation has major ramifications for the UK construction sector.
"But it should also stand as an important lesson for government that, when it comes to awarding public sector work, big is by no means always best."