Cala Homes 'on course for sixth record year'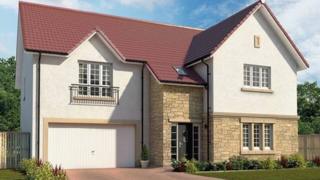 Upmarket housebuilder Cala has said it is on course to deliver record revenues and profits for the sixth year in a row.
It comes after the Edinburgh-headquartered company reported a "strong" first-half performance.
Total home completions were up by 34%, to 939, in the six months to 31 December.
The group said it was on course to deliver 2,500 units per year and £1bn in revenue by 2020.
Its long-term goal is to build more than 3,000 units per year from its current operating platform.
'Strong momentum'
Cala Group chief executive Alan Brown said 2017 had been another "excellent" year for the company.
He said: "The first six months of the current financial year have seen us maintain the strong momentum generated by the business in recent years that has seen us become the UK's fastest growing housebuilder by volume over the last decade.
"We have made exceptional progress in transforming the size and scope of our business and remain focused on scaling up our eight divisions as we continue to make significant progress towards achieving operational efficiency."