Survey suggests Scottish business investment is 'rising'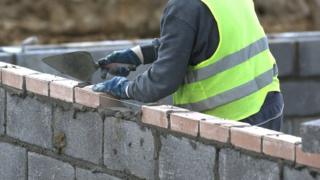 Levels of investment are rising across Scottish businesses amid growing expectations of a strong year, according to a new economic survey.
The Scottish Chambers of Commerce (SCC) found that many firms were looking to invest in capital and training to improve their prospects.
This was despite some sectors remaining "fragile" in terms of overall business confidence.
A total of 385 firms responded to SCC's latest quarterly economic indicator.
The survey, produced in collaboration with Strathclyde University's Fraser of Allander Institute, covers construction, tourism, retail and wholesale, manufacturing and financial services.
It suggested that every sector expected to see sales revenues increase in the second quarter, with firms anticipating that investment will gain rapid returns.
While many construction firms reported lower sales revenue in the first quarter, the report suggested there were "encouraging signs" for the sector, with private commercial orders up significantly, and cash flow and profitability improving.
Meanwhile, retail and tourism business said they continued to face "challenging domestic conditions".
Businesses 'adapting'
Neil Amner, chairman of the SCC economic advisory group, said: "The results of SCC's first quarterly economic indicator of 2018 show that while the economy has not been without challenges, most sectors are reporting increasing levels of investment across capital and training.
"It is clear that businesses are adapting to the changing economic environment and have positive expectations for the quarter ahead."
Prof Graeme Roy, of the Fraser of Allander Institute, said there were "notable reasons to be positive", including increased investment.
However, he warned that the construction sector, which had been a "major drag on growth", continued to remain "fragile" in the face of falling public sector orders.
Prof Roy added: "Overall, the survey finds that Scottish businesses are remaining resilient to uncertain trading conditions."