Getting abrasive, or going with the flow?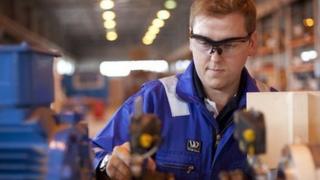 One of the venerable names in Scottish engineering, Weir Group gets ever more global and less Scottish.
It sold its Cathcart works seven years ago. Now, Alloa is on the sale block - with its 250 workers - as Weir moves out of valves and pumps for power stations, water works, gas handling and refineries.
Once that has gone, Weir won't have any manufacturing in Scotland.
There will be a service centre in Aberdeen and the headquarters in Glasgow's financial district.
It's the reverse of the concern some express about the loss of corporate headquarters from Scotland.
From a modest Glasgow office, Weir has grown with a busy programme of acquisition. It now manages a sizeable empire of manufacturing, service centres and agencies for its products. It has around 15,000 employees in 70 countries.
The empire gets significantly bigger with the announcement that it is buying ESCO, based in Portland, Oregon, which had revenue of $632m last year, and pre-tax earnings of $68m.
Ground engaging
ESCO adds at the front end to Weir's product range for the mining industry. While Weir does the heavy duty conveyor belts and crushers for handling coal and ore, ESCO does the "ground engaging".
That is, the very heavy duty abrasive kit that tears into the rock to break it up.
The Pacific coast company's been in mining equipment for 105 years. That heritage is part of what attracted the (mainly) family owners of ESCO to sell to Weir.
Jon Stanton, who became chief executive in 2016, after six years as finance director, has been getting to know the Oregon operation and the owners. He portrays the corporate culture is an uncannily close fit.
So strategically, Jon Stanton can now claim he has a range of mining products, with after-sales service, that his rivals can't match.
There's a service centre, says the chief executive, within 200km of every mining site around the world.
In its oil and gas division, it also specialises in the front end equipment for shale fracking. What they both have in common is that they operate in tough environments, which require a lot of replacement parts and servicing.
Flow Control is more of a niche business and has fewer after-market possibilities, so it is hard to justify allocation of capital in that division.
The thinking is that it would fit better with another company which has a similar or complementary line of work.
Absorbing
Being into fracking, it won't surprise to learn that Weir has been through a deep and difficult trough of late. It's coming back though. The most recent figures, for the first quarter, show oil and gas orders up by 50%.
The stock price fell from £24.90 in September 2014 to £7.48 in February 2016. It is now above £22.30, with a 6% rise on the day from the ESCO announcement.
On those rising markets, the board reckons it's a good time to re-position in areas of strength.
Absorbing ESCO and selling Flow Control will keep them busy for a while - perhaps 12 to 18 months.
Once complete, Jon Stanton says the firm should have a strong balance sheet.
That global growth can then resume.