Scotland's hotels outperform rest of UK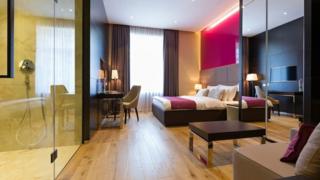 Hotels in Scotland outperformed those in the rest of the UK last year, according to a report.
Business advisers BDO found average room yield, or revenue, in Scotland grew by almost 5% in 2017 to £56.70.
This compared with a rise of just over 4% in Wales, 2.2% in Northern Ireland and just under 2% in England.
BDO said the depreciation of the pound after the Brexit vote had brought a record number of overseas visitors to Scotland and the rest of the UK.
Its Hotel Britain report suggested Edinburgh was the top-performing city outside London last year, having benefited from strong leisure and corporate demand.
The Scottish capital boasted an occupancy rate of 85% - an increase of 1.8% on the previous year. The rate for Glasgow increased slightly to 83.2%.
However, Aberdeen, which has been hit by the oil industry downturn, experienced the lowest hotel occupancy rate in the UK at 63.4% - a decline of more than 5% on 2016.
Martin Gill, head of BDO in Scotland, said 2017 had been a "fantastic year of growth".
He said: "Looking ahead, Scotland has an active pipeline with over 1,600 hotel rooms expected to open during 2018 and 2019.
"The strong performance demonstrates the industry's robustness despite facing EU uncertainty and an increase in supply."
"The Scottish hotel industry will hope to continue to benefit from the weak pound, which will attract overseas visitors and, indeed, the domestic market, as the UK continues its 'staycation nation' status.
"The inaugural European Championships multi-sport event in Glasgow this summer will undoubtedly drive a further increase in overall visitor numbers for 2018."