Retail therapy: a two-for-one offer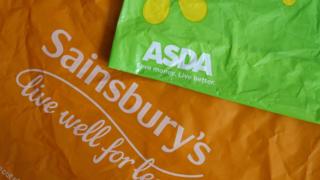 The jury is not yet out on Scotland's experiment with minimum unit pricing for alcohol. It'll take a while to examine the evidence - more cross-border shopping, a shift to home brew or even illicit distilling and, if the government is right, less heavy drinking?
However, long before the evidence piles up, the policy is already a windfall to the nation's booze retailers. The gap between the old price and the new one is not tax but pure profit. Some might be shared with brewers and distillers, depending which side has the pricing power.
It will be interesting to watch how valued brands of blended whisky - Famous Grouse and Bell's, for instance - seek to move themselves apart from the minimum-priced pack of own-brand rivals, perhaps with some premium pricing.
But at least as much attention is going to be paid to a shock shake-up of the way Britain buys its groceries, with the proposed merger of Asda and Sainsbury's.
Tuesday brought new market intelligence, from market analyst Kantar Worldpanel, suggesting that the current joint share for the betrothed would give them 31% of the groceries market.
Competition regulators have stopped Tesco from growing beyond 30% of the UK grocery market. And as it has lost ground to the Lidl and Aldi insurgency, Tesco now has below 28%.
Over the years, Kantar has shown how much Asda, in particular between 2014 and 2016, has struggled against German discounters.
The strategy of linking Asda with Sainsbury's could help with that, both by having Asda focus more on the budget conscious, and with both brands being used to drive harder deals from suppliers.
Those suppliers, including farmers, have good reason to be concerned about the prospect of four big retail chains becoming three. Between Tesco and the newly merged As-bury or Sains-da, they would have the buying clout of close to 60% of the market.
Kantar and other market analysts can shed some light on how different Asda and Sainsbury's are. It showed Asda achieving nearly two-thirds of its sales outside London and the south-east of England. In contrast, Sainsbury's had 59% of its sales in those south-east regions.
That is one reason why there is less overlap in Scotland than elsewhere. Sainsbury's has built a strong "Local"-branded convenience store network. Asda did not go into that sector, but stuck with scale.
Sainsbury's was slow into the rush for out-of-town superstore land in Scotland, choosing sites carefully for more affluent shoppers and to ensure that they were within manageable range of its delivery trucks. Given the change in shopping habits - to more frequent, more local trips to the shops - it has good reason to be grateful for that.
If the "Local" stores are kept out of the calculation, there is less cause in Scotland for the competition regulator to step in and demand the new company must sell off one of its stores where there is direct local competition.
A rough-and-ready calculation by GlobalData of the scale of that, using postcodes, suggests 75 big stores may have to go, out of 2,800.
Affluent
Another factor that sees the two proposed partners diverging - and in a way that lends further sense to the £12bn combination - is the reach to affluent and cash-strapped households.
Kantar observes that the more affluent ABC1 demographic makes up 62% of Sainsbury's sales, and 46% for Asda.
Sainsbury's premium own-label line "Taste the Difference" clocked up sales of £832m over a year. That's nearly two and half times the size of Asda's "Extra Special" range.
At Axicom consultancy, they note that Sainsbury's shoppers are somewhat less driven by price promotions. Some 65% of items are bought "off deal", compared with 60% at Asda and only 52% at Morrisons.
Overlap
So how much overlap is there? All the retail multiples are seeing more promiscuous shopping. Over a three-month period, more than 10 million people are going to Aldi, and more than 10 million to Lidl. But they turn to others at different times.
Kantar tells us that 15.8 million households bought their groceries at Asda over the past 12 weeks, 500,000 more than shopped at Sainsbury's. The data firm says nine million of those people went to both.
However, there is more overlap between Asda and both other major rivals Tesco and Morrisons.
GlobalData has crunched some of the numbers, and reckons 66% of Asda shoppers also shop at Tesco versus 53% who also shop at Sainsbury's. Asda shoppers are also more likely to shop at Aldi than Sainsbury's.
Half of Sainsbury's shoppers also shop at Asda versus 72% who also shop at Tesco. So again, Sainsbury's shoppers are more likely to shop at Tesco than Asda.
That reinforces the case for specialisation - Asda going down-market, focussing more on price, and Sainsbury's shifting gingerly up-market, with more emphasis on quality over price.
But they will find competition remains fierce at both ends of that spectrum. It's not just Lidl and Aldi that have been growing fast, but Waitrose has grown with the more affluent shopper, though it is down in the most recent figures, with 5% market share that puts it just behind Lidl.
These figures also emphasise how disloyal shoppers have become, and how any requirement to hand stores to the rivals of this new mega-retailer may also hand over some market share.
Deep pockets
There's another rationale for this. The retailer that doesn't yet figure in Kantar's reckoning of market share is Amazon. It has proven ability both to disrupt markets and to manage both warehousing and home delivery.
The US online giant hasn't yet reckoned how it's going to make groceries work, but it has the luxury of being able to experiment. The most unexpected part of that was to buy Whole Foods for $12bn. It's an upscale grocery chain mainly in the coastal USA, with a handful of stores in Britain. That used to include Giffnock, near Glasgow, but it was recently closed, being a long stretch for distribution trucks.
Amazon's other trials are with Morrisons, fulfilling online orders. Amazon is trialling small warehouses in city centres with which to offer same-day or even one-hour delivery but within a limited radius.
It has a "larder" offer, encouraging its online regulars to pile up stuff like tinned food and household cleaning material, which has no need for immediacy and long shelf life, occasionally aggregating them into a single delivery.
Established retailers are well aware that online-only rivals have far lower fixed costs in buildings, car parks and stock.
Amazon has already taken a big chunk out of non-food sales from supermarkets, particularly in electronics.
With deep pockets, clever technology and a ruthless drive on price, whatever Amazon does will have to be watched closely.
Grocery market share - 12 weeks to 23 April
Tesco
27.6%
Sainsbury's
15.9%
Asda
15.5%
Morrisons
10.5%
Aldi
7.3%
Co-op
6%
Lidl
5.4%
Waitrose
5.1%
Iceland
2.1%