Scottish election: Business focus for Holyrood drive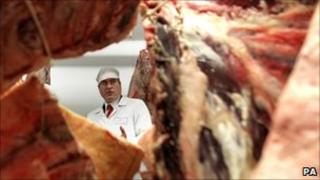 Scotland's main political parties are focussing on business, as campaigning continues ahead of the 5 May Holyrood election.
Scottish Labour leader Iain Gray was visiting a food processing firm near Linlithgow.
The Lib Dems' Tavish Scott was dropping by North Glasgow Regeneration Agency, while the Tories were unveiled their motorway "hard shoulder running" plan.
Nicola Sturgeon was highlighting SNP support for young families.
Scottish Tory leader Annabel Goldie called for sections of motorway hard shoulders, normally used for vehicle breakdowns, to be used to tackle congestion.
She pledged to revive a pilot which would have seen a section of the M77 used for buses, linked to a new park and ride facility at Monkton, in South Ayrshire.
Miss Goldie said: "Scottish Conservatives believe that opportunities to develop appropriate sections of the hard shoulder on Scotland's motorway should be a national transport priority.
"They would ease commuter journeys and contribute towards the ambitious carbon emission targets in the Climate Change Act."
Ms Sturgeon, SNP deputy leader and Scottish health secretary, met parents and children at the Darnley St Family Centre, in Glasgow.
She pledged to expand the family nurse partnership scheme, which gives intensive support to young families, from Lothian and Tayside to Glasgow.
She said: "An SNP government will see young mothers and fathers given intensive support for the six months before their baby is born and for two years afterwards.
"We know that works, it has worked in Edinburgh and in Dundee to tackle deprivation, to help parents help their children and to support parents into work."
Mr Scott called on housing associations to run their own small renewable energy projects, such as solar panels.
"We recognise the impact of rising energy bills on homes across Scotland. Our proposals to help housing associations with new forms of cheap green energy can help bring costs down," he said.
"Today, I saw a great example of that in action at Cube Housing Association in Glasgow."
Mr Gray was meeting apprentices and staff at Campbells Prime Meat, before chatting to voters in Linlithgow.