Scottish election: Coastal town faces pressing issues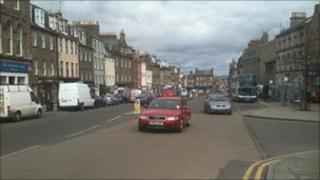 With the Holyrood election campaign in its second week, BBC Scotland's Good Morning Scotland reporter Kevin Keane continues his journey to find out what matters to ordinary members of the country's electorate.
Montrose, in Angus, is a town where the centre is broad and wide.
And funnily enough that same phrase would sum up the issues people here seem to be concerned by.
But during my trawl along the High Street, there were two which cropped up repeatedly.
David - he wouldn't give me his last name - summed it up perfectly.
He said: "Lack of houses, lack of jobs. That's just about it really.
"I'm overcrowded in the house that we're in. When I came back from the Army eight years ago I couldn't get a house unless I had some kind of alcohol problem.
"Even trying to find a job is really tough and if you do get one it's a short-term contract.
"There's no future for anything so people just think 'what's the point'."
Simon Dempster was a bookmarker on the main street until he was made redundant a year ago.
Outside the now-empty shop where he used to work he shared his concerns.
He said: "There are not many industries coming into Montrose, there's not a lot of variety.
"I think we could do with bringing in more business to the town.
"There are quite a lot of folk unemployed and a lot are leaving Montrose to find a job in say Aberdeen or Dundee."
This is not a poor community, as a drive around the area will confirm.
The green and leafy Provost Scott's Road is bordered by plenty of desirable properties.
Drugs issue
A major employer is GlaxoSmithKline, whose base sits on the banks of the South Esk at the southern end town.
But John Graham - whom I congratulate as he confides that he hits retirement age today - says there's little to keep school-leavers here.
He said: "Basically you've only got the Glaxo and apart from that there's nothing here.
"That's why you've got the drugs issue and thieving because there's no work for them and nothing for them to do."
Statues litter Montrose's centre including one on the corner of Hume Street of a Joseph Hume.
He was a parliamentarian of the town who fought for full accountability and scrutiny of public spending.
Perhaps he's a man who would do very well in any election today.