Scottish election: Lib Dems make council tax pledge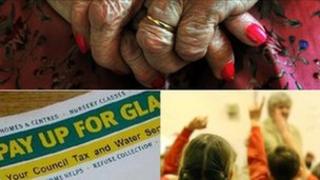 Pensioners on the lowest incomes would not have to pay any council tax under plans to be unveiled by the Scottish Liberal Democrats.
It is the latest in a series of offers from the main parties designed to lessen the burden of local taxation.
The Tories have already vowed to freeze the council tax and cut £200 from the bills of all pensioner households.
The SNP said it had a proven record on holding down local taxes while Labour said it would fund a two-year freeze.
During four years as the minority government in Scotland, the SNP delivered the council tax freeze it had promised at the 2007 election.
In effect, all parties are now backing a continued council tax freeze as they campaign for the Scottish Parliament election on 5 May.
The SNP told BBC Scotland: "We will continue to freeze the council tax, protecting family budgets at a time when UK taxes are rising, fuel costs are soaring and inflation is increasing. We will also freeze household water rates for two years."
The Tories have pledged "a continued freeze for council tax bills for all in 2012-13 and a £200 council tax cut for every pensioner household".
Labour has vowed to "freeze the council tax for two years, to help families through tough times".
The Lib Dems are now saying that the poorest pensioners, those with an annual income of less than £10,000, should be exempted from paying the council tax entirely.
The Scottish Greens said it would scrap the council tax and business rates and replace it with a land value tax.
The party's co-convenor Patrick Harvie said: "The Greens have long argued that council and business rates together should be replaced by a land value tax - it would save most households money, most small businesses money and it would hit harder on some of the big businesses, the multi-nationals for example, some of whom operate land banking policies."