Scottish election: South of Scotland candidates known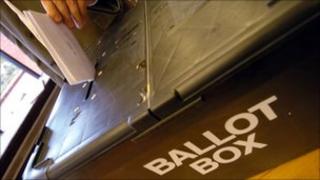 The political make-up of the fight for four Scottish parliamentary seats covering the Borders and Dumfries and Galloway has been completed.
All four of the main parties will be represented in each constituency.
The only seat listing an independent is Ettrick, Roxburgh and Berwickshire.
Otherwise, it is a four-way fight between the SNP, Labour, the Tories and Lib Dems in Galloway and West Dumfries, Dumfriesshire and Midlothian South, Tweeddale and Lauderdale.
A total of 12 parties are competing for support in the regional list ballot for the south of Scotland on 5 May.
In addition to the four main parties, those standing are the Scottish Green Party, the British National Party, the UK Independence Party, the Scottish Senior Citizen's Party, the Scottish Christian Party, the Scottish Socialist Party, the Socialist Labour Party, and Solidarity.
BBC Scotland is staging two hustings events for two of the constituencies in the area.
Candidates for the Midlothian South, Tweeddale and Lauderdale constituency will be at the Corn Exchange in Melrose on 10 April.
Members of the public who are keen to participate should send an e-mail to selkirk.news@bbc.co.uk.
A similar event is planned for the Dumfriesshire constituency later in the month.
It takes place on Thursday, 21 April, at Dumfries Academy's Minerva Hall and a place can be booked by contacting dumfries@bbc.co.uk.