Scottish election: Orcadians speak with clear voice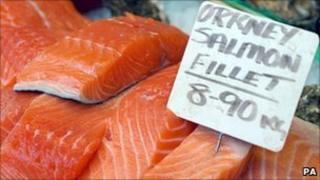 With the Holyrood election campaign in its third week, BBC Scotland's Good Morning Scotland reporter Kevin Keane continues his journey to find out what matters to ordinary members of the country's electorate.
Orkney is a place with a very strong sense of identity reflected in the vast array of products which boast its name.
But perhaps what you struggle to find here are local goods bearing a proud association with Scotland.
One shop on Kirkwall's main street has a huge "Kate and Wills" window display, complete with union flags, but there's not a saltire in sight.
Little wonder then that this was one of the least enthusiastic corners of this nation when it came to the 1997 referendum on devolution.
Though the majority voted in favour of creating a parliament, it was by one of the narrowest margins in Scotland.
And these folk were among the minority who did not back tax-raising powers.
But that was 14 years ago and times change. But do the views?
English incomer Victoria Muir, who's married to an Orcadian, says: "If you ask my husband he says it [Holyrood] doesn't have any relevance to Orkney at all.
"We're a separate place and he thinks we should have our own government and that's it."
Brian Thompson, from Orphir, agrees that local identity is important but does support the political presence at Holyrood.
"I think it's very relevant," he says. "We pride ourselves in local government but realise it won't work without a Scottish Parliament as well."
Mr Thompson thinks the big election issues are "probably funding for local services and particularly transport between the islands here and the mainland, among other things".
Local couple Brian Rendall and Janet Farquarson are both big supporters of devolution.
'Forget them'
Janet said: "I do think it's relevant and I do pay attention to it, being an ex-English councillor."
Partner Brian, an Orcadian, added: "It's a lot better than the Westminster parliament, you may as well forget them altogether."
While there does appear to be a view by many that Orkney's voice isn't heard as loudly as some from the central belt, not many residents said they would prefer power to be handed back to London.
Except maybe Robert Harcus, from Kirkwall, who says: "We're in the north and parliament's in Edinburgh. That's the long and the short of it.
"We're always going to be ruled by London anyway, I mean it's just a throw back. But let them have their wee bit of fun."