Scottish election: Public casts vote on party posters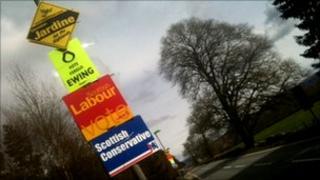 With the Holyrood election campaign in its fifth week, the BBC's Good Morning Scotland reporter Kevin Keane continues his journey to find out what matters to ordinary members of the country's electorate.
As polling day creeps ever closer, an increasing number of election posters are appearing in shop windows, farmers' fields and on lamp posts.
But during my weeks of travelling around Scotland I have seen no community which boasts more placards than the Speyside village of Dulnain Bridge.
As you enter this hamlet - of probably 100 or so people - it would be impossible not to notice an election is looming.
From whichever direction you approach, almost every lamppost has been claimed by each of the main parties and many from minority candidates too.
One resident told me: "I don't really notice them if I'm out with the dog and things like that, they don't do anything to disturb me."
Not really money well spent for that voter at least, but others have a more positive outlook.
In his garden adjacent to the bridge after which the village is named, one man said: "I think it just tells you there's an election on, practically, and it gives you information about who your candidates are."
But asked if seeing the posters makes much difference to who receives the cross I was told: "Not really, I think you have to read about what each one of them stands for and come up with a decision about who you want to vote for or if you want to vote."
The local postie told me she wasn't swayed by the swaying lamppost's posters.
She said: "It would be the leaflets that come through the door which make the difference."
Of course those deliveries keep her in work.
'Waste of money'
In the village's garage, the local mechanic explained how the banners appeared.
He said: "They've been up about a week, as far as I know.
"One lot comes and puts some up and then the next one goes on top of that one.
"It seems a waste of money to me though."
Asked if his eager eye had spotted whose had gone up first he told me: "That will be the Labour one I think and then the rest just followed suit.
"They either go up above or down below but it seems a waste of money to me."
If they've done nothing else the signs have created an avenue of colours from across the rainbow and made Dulnain Bridge less - well - dull.