Scottish election: Campaign continues ahead of debate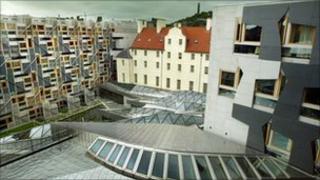 Campaigning has continued ahead of the Holyrood election as leaders from the four main parties prepared to discuss the issues in a televised debate.
Alex Salmond, Annabel Goldie, Iain Gray and Tavish Scott are set to go head-to-head in front of a 1,000-strong audience at Perth Concert Hall later.
As the campaign entered its final week, the parties have focused on a range of issues, including law and order.
Voters in Scotland are due to go to the polls on Thursday 5 May.
The SNP unveiled plans to improve access to justice for those on low incomes.
The party said class actions and a new law on damages would be introduced by a re-elected SNP government.
They said they would bring in new rules to allow people who have similar complaints against the same party to go to court together in one single case.
Kenny MacAskill said the plans would bring an end to the situation where people who could not afford to take legal action were denied justice.
He added: "With class actions and a reform of damages law, a re-elected SNP government will ensure that all those who need access to the law and to legal redress have access to the law."
'Political posterior'
Meanwhile, Scottish Tory leader Annabel Goldie said her party would ensure the 1,000 additional police officers, delivered during the last Parliament, would be protected.
She added that she had given Alex Salmond "a kick up his political posterior" during his time as first minister.
She said: "It was of course Scottish Conservative pressure and Scottish Conservative votes which forced the 1,000 extra police on our streets.
"Alex Salmond also knows that I and the Scottish Conservatives committed to keeping these 1,000 extra police nearly two weeks ago, at the Scottish Police Federation Conference in Inverness.
"I've proved in the past four years that I can keep Alex Salmond in check and judging by the fact he is trying to take credit for Scottish Conservative policies, he'll need a kick to the political posterior in the next Parliament too."
Scottish Labour's election coordinator, John Park, said voters in Scotland faced a clear choice in the election.
He accused the SNP of being "obsessed" with independence and said the issue distracted the party from the issues that mattered.
He said: "With every day that goes by Labour is fighting back and momentum is returning to Labour as voters realise just how dangerous the SNP's grand plan to rip Scotland out of the United Kingdom is."
He added: "Regardless how much he tries to hide it, everybody knows a vote for Alex Salmond is a vote for separation and a vote for Labour is the only way to stop them."
The Scottish Liberal Democrat leader, Tavish Scott, said the next Parliament would be a time for a Scotland "that looks outwards and upwards, and is not insular, throwing insults over Hadrian's Wall".
He added that his party continued to fight "a determined and positive campaign".
He said: "Scotland needs long-term solutions, not short-term political fixes.
"A government for the whole country, not a minority party."
The Scottish Socialist Party's joint leader hit out at the four main parties, saying they were indulging in nothing more than "shadow boxing".
The SSP is standing in all of Scotland's regional lists.
Frances Curran said: "Behind the big party shadow boxing lies a simple choice that either the rich pay their share or the rest of us will with frozen pay, slashed services and sackings.
"Unlike the grey suits of the big four, the SSP tells it like it is without spin. Our message is simple - the rich must pay."
The party leaders election debate, presented by Glenn Campbell, will be broadcast at 2225 BST on BBC One Scotland.