Scottish election: Oban voters say 'don't forget us'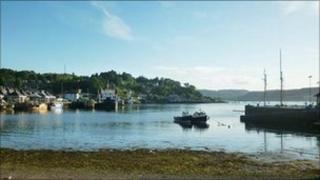 BBC Scotland's Good Morning Scotland reporter Kevin Keane files the final piece from his election journey which aimed to find out what mattered to ordinary members of the country's electorate.
If the Liberal Democrats want to make in-roads at the ballot box, Argyll and Bute should be the place to do it.
The seat was taken from them by the SNP in 2007.
But for all the candidates, the issue of roads is in fact a touchy one in the small coastal town of Oban.
One animated local woman told me improvements to infrastructure is the key issue.
"That's it, the roads are terrible and I think when tourists see what they are like they will never come back.
"There are pot holes not cared for, especially the second half of Loch Lomondside, it's dreadful."
The sentiments are echoed by hotelier Ann Donn, of the Palace Hotel, who said: "The parking here is diabolical. Apart from the charges, which you would expect, there just isn't enough parking.
"Although I hate to say it because we face the bay and I don't want it filled in to make a car park."
Actually finding residents among the visitors has been quite a challenge.
With the beautiful weather, visitors have been flocking to Oban these past few days which is great news for hoteliers and businesses.
But resident Joan Kemp believes the community doesn't receive investment appropriate to its importance as a destination and feels whoever is elected needs to stand up for her town.
"I'm concerned about the way the council run Oban because I think it is a very poor relation in their books.
"There is a project to bring money to various of the Argyll areas, Helensburgh, Dunoon and it's supposed to be Oban.
"All the other towns have project managers paid for by the councils but Oban hasn't."
On the last day of campaigning, the desires of Pat Maclean on what candidates should be promising, are perhaps an appropriate way to round up this tour of Scotland.
He wants: "Promises they can deliver and not promises they can't deliver."