Scottish election: Voters go to the polls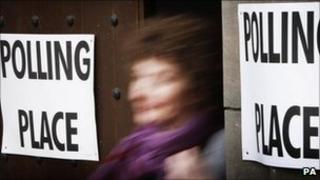 Scotland goes to the polls on Thursday 5 May to elect a new Scottish government.
Polling stations are open across the country from 0700 BST until 2200 BST.
It follows six weeks of campaigning among the four main parties; the SNP, Labour, the Lib Dems and the Tories.
The Greens are contesting, along with 10 other smaller parties fielding more than five candidates each, and 22 independents are also standing. Results are expected from 0200 BST on Friday.
Voters will return 129 Members of the Scottish Parliament to take their seats in the devolved body's home in Holyrood.
MSPs are voted in in two different ways - 73 by constituency and 56 by regional vote.
The latter system is designed to ensure the number of seats won by each party reflects the proportion of votes it received more accurately than "first-past-the-post" allows.
A raft of results are expected at about 0200 BST on Friday, with another lot due about 0400 BST.
The full picture on which party will form a government is not expected to fully emerge until late on Friday afternoon.
BBC Scotland's election result service on TV, radio and online will run through the night on Thursday and the following day.
Live updates
Derek Bateman and Kenneth Macdonald will keep Radio Scotland listeners informed during the night, while Sally Magnusson and David Henderson will host the TV special. From 0600 BST Jackie Bird and Glenn Campbell will take over the election programme on BBC One Scotland.
BBC Scotland's news website will follow the results story with minute-by-minute updates on its LIVE: Election page and there will also be a live stream of the TV coverage.
Political editor Brian Taylor will update his blog from the studio broadcasting the live programme. And correspondents will be tweeting throughout the night and the following day.
The vote is taking place on the same day as the AV referendum. A result on that is expected from between 2000 and 2200 BST on Friday.