Former PO Alex Fergusson makes Tory frontbench return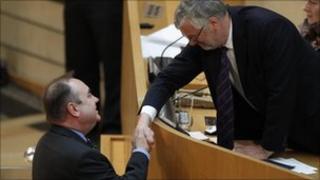 Tory MSP Alex Fergusson has made a return to frontline party politics, just a day after standing down as the parliament's presiding officer.
He was named as his party's rural affairs spokesman in its post-election reshuffle.
Elsewhere, newly-elected MSP Ruth Davidson has takes on responsibility for culture and external affairs.
And, with an independence referendum on the cards, David McLetchie takes on a constitution brief.
In the wake of the SNP's landslide victory last Friday, it was also announced Tory MSP Gavin Brown had become economy spokesman.
The Scottish Tories, who won 15 out of 129 seats, will elect a new leader later this year, after Annabel Goldie said she was stepping down.
The reshuffle does not affect deputy leader Murdo Fraser, who stays at health, and Liz Smith, who remains education spokeswoman.
Mr Fergusson, who won the new seat of Galloway and West Dumfries, has become the first MSP to return to Holyrood after stepping down from the politically neutral job of Holyrood presiding officer.
Scottish Conservative front bench in full:
Leader: Annabel Goldie (outgoing)
Deputy leader and health: Murdo Fraser
Economy: Gavin Brown
Justice: John Lamont
Education: Liz Smith
Health: Mary Scanlon
Public health and sport: Nanette Milne
Housing and communities: Alex Johnstone
Environment: Jamie McGrigor
Rural Affairs: Alex Fergusson
Culture: Ruth Davidson
Business manager, chief whip and constitution: David McLetchie
Transport, infrastructure and climate change: Jackson Carlaw