New MSP Willie Rennie stands for Lib Dem leadership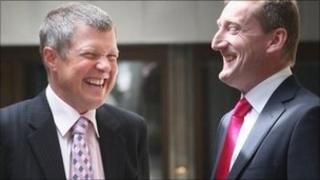 One of the Liberal Democrats newest MSPs has confirmed his intention to be the party's next leader at Holyrood.
Willie Rennie, a former MP, was elected to represent the Mid Scotland and Fife region in last week's election.
In a statement released by the Lib Dems, Mr Rennie said he was "ready for the challenge" of rebuilding the party.
He added: "It is my job, together with the team, to rebuild and stand up against the bulldozer SNP government for liberal values."
Mr Rennie was MP for Dunfermline and West Fife between 2006 and 2010, before losing the seat to Labour last year.
He is expected to be the only candidate for the position following the resignation of Tavish Scott last week.
Mr Scott, the MSP for Shetland, quit on Saturday after the party's disastrous night at the polls, which saw the number of Liberal Democrat MSPs drop from 16 to five.
Mr Rennie said: "Scotland needs a liberal voice in its parliament. The Liberal Democrat group at Holyrood may be small, but we'll be that strong liberal voice.
"I believe local people know best, that Scotland should have opportunities for all, no matter what your background. And Scotland should be built on ideas for the long-term, a sustainable Scotland."
The Lib Dem MSP said he took the decision to stand for leader after discussion with family and colleagues.
He added: "We're listening to the message sent by voters last week. They were angry - we understand that."
The other Lib Dems at Holyrood are Alison McInnes, on the North East list, Jim Hume in the South of Scotland and Liam McArthur, who represents Orkney.
Mr Rennie, who is a former parliamentary aide to the Scottish Secretary Michael Moore, was also a member of the House of Commons defence select committee, shadow defence minister and chairman of the Lib Dems campaigns and communications committee.
Tavish Scott's resignation came after that of Scottish Labour Leader Iain Gray. Scottish Conservative leader Annabel Goldie has also announced her intention to resign in the autumn.
Nominations close at midday on Tuesday. Candidates need to have 30 signatures in support, with a maximum of five from any one constituency party.