UK Supreme Court to retain role in Scots law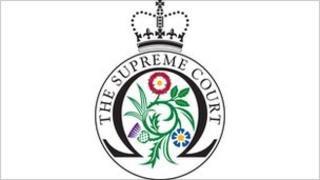 The UK Supreme Court should continue to have a role in Scottish cases, but with limited jurisdiction, a government-appointed review group has concluded.
Legal experts completed their review by confirming the High Court of Justiciary should normally remain the final court of appeal in domestic criminal cases.
A series of controversial rulings on Scottish cases prompted the review.
Appeals under the European Convention on Human Rights (ECHR) should still go the Supreme Court.
But the review group said an appeal to the Supreme Court should be competent only where the High Court has granted a certificate showing that the case raises a point of law of "general public importance".
The London-based court attracted criticism for a ruling, known as the Cadder judgment, on the rights of suspects to legal representation in Scotland.
Report welcomed
First Minister Alex Salmond ordered an independent review in June having complained the UK Supreme Court should have "no role" in Scottish criminal cases.
Justice Secretary Kenny MacAskill welcomed the final report, parts of which were contained in an initial submission to MSPs before the summer recess.
Mr MacAskill said: "I believe that our High Court of Justiciary should have the final say on which points of law are of general public importance and I therefore support the suggestion of a certification process.
"Some of the finest legal and constitutional minds in the country have recognised that the UK Supreme Court plays a much more significant - and inappropriate - role in Scottish criminal law than had been envisaged when the Scotland Act was passed, and that it is more intrusive within Scots law than is the case for the other jurisdictions within the UK.
"If this situation continues, this has serious implications for the independence of our historical legal system."
He added: "Clearly in an independent Scotland the solutions would be simpler with cases referred from the Scottish courts direct to the European Court of Human Rights."
The group heard from a number of high-profile figures, including Lord Wallace, the Advocate General for Scotland.
Groups such as the Law Society of Scotland, Glasgow Bar Association and the Scottish Human Rights Commission were also involved.
The review group was made up of Lord McCluskey, former Solicitor General and senator of the College of Justice; Sir Gerald Gordon, described as an influential figure in Scottish criminal law and procedure; Charles Stoddart, a former sheriff, sheriff principal and director of judicial studies; and Professor Neil Walker, described as an expert in constitutional law at the Edinburgh School of Law.
'Passions bubbled over'
Responding to the conclusions, Lord Wallace said: "It is very welcome that Lord McCluskey's review group has confirmed that there is need for the UK Supreme Court to retain a role in Scottish criminal cases where Human Rights Convention issues arise.
"Such agreement with my own expert group and many others in the Scottish legal community on this key point makes one wonder why passions bubbled over in certain quarters a few short months ago.
"When it comes to the proposal to allow appeals to the Supreme Court, only where the High Court has granted a certificate, I am conscious that a number of responses to the consultation I held earlier in the year, and indeed responses to Lord McCluskey's group consultation, took a contrary view."
He added: "I can't ignore the claim today from Mr MacAskill that things would be 'simpler' in a separate Scotland when cases could be referred straight to the European Court of Human Rights in Strasbourg.
"It is a curious definition of 'simpler' to have a case sent to a court twice as far away, in France, where there is a backlog of 150,000 cases."
Scottish Lib Dem leader Willie Rennie said: "The SNP have been found guilty of tawdry language and barely disguised malevolence that has not served Scottish justice well and ill fits those in their high offices."
Labour's justice spokesman, Johann Lamont MSP, added: "Instead of wasting time and taxpayers' money picking fights - simply because a court sits in London - the SNP should focus its energies supporting the victims of crime."
The row about the Supreme Court's role in Scottish criminal cases erupted again in May in the case of Nat Fraser.
Five justices in the court in London said Mr Fraser's conviction for the 1998 murder of his wife, Arlene, should be quashed.
Fraser, 52, from Elgin, now faces a retrial.