Standing up for the Old Firm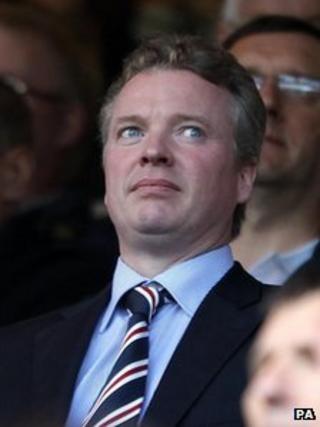 Here are tales of two arch-rival clubs, on either side of Glasgow. You may have heard of them.
Rangers' off-field financial woes continue to reverberate, with further confirmation that new owner Craig Whyte has administration in mind if he loses the £49m HM Revenue and Customs tribunal in November.
He is looking beyond, at either victory in that case or recovery from administration if Rangers lose.
That's according to a newspaper interview.
He doesn't like TV cameras, it seems - or at least those he doesn't own.
The Daily Telegraph (not known as a big seller in Govan) reports him working "behind the scenes" to get access to the English League.
But, as that didn't get the Old Firm far south of Gretna the last time the clubs tried, he's also looking to being part of restructured Nordic leagues, or the Netherlands, or perhaps an Atlantic league, or maybe a combination with teams playing in different leagues.
This is recognition that Rangers' big ambitions of competing with top-whack wages for some of Europe's best players requires them to play on a bigger field than Scotland.
Investment portfolio
The English League would justify investment of £100m in the team, he's reported as saying, but the Scottish one far less.
There's also recognition in the interview that Whyte's own finances are less than clear.
He's defensively having to answer questions about whether his business credentials are genuine.
No surprise, then, that he says they are.
At any one time, according to this report of an interview, Whyte's investment portfolio comprises 20 to 25 companies, drawing on his specialism of turning them around when they're struggling.
He's reported as conceding that line of work means some are bound to fail, and messily.
And, while he holds on to each for two to five years, his aim with Rangers is to "create a long-term sustainable business - but it's going to be a rocky road".
Feasibility study
Celtic are also having to cut their cloth according to the relative decline of Scottish football, which will be a theme you might see running through the annual meeting on 14 October.
The Celtic Trust - self-appointed voice of small-scale shareholders - is trying, once again, to get fans' representation on the board of directors.
Having been knocked back at AGMs before, the idea is dismissed with the observation that the directors are already fans of the club.
So why the need to elect more?
Fans are also pushing the club to allow for standing room at Celtic Park, where tensions rise when stewards follow through on the requirement to keep people on their bahookies.
The fans cite evidence of other grounds, overseas and in other sports, where standing room is allocated, and where seats can be installed temporarily to allow for European competition regulations.
There are legal problems in Scotland with that, but it's already being looked into in a feasibility study led by chief executive Peter Lawwell.
So the message from club bosses: sit down, keep calm and carry on.