Labour leader Ed Miliband defends UK common bond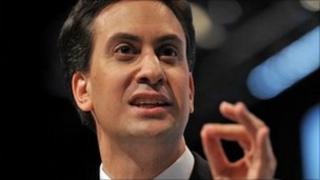 Labour Party leader Ed Miliband said that the UK had a common bond which should not be broken by Scotland leaving the union.
He was speaking from Liverpool on the last day of his party's conference.
Mr Miliband, who was speaking to BBC Scotland's Good Morning Scotland programme, also said that overall the SNP government had not done a good job.
He added that it was the job of his party to hold the Scottish government to account.
Mr Miliband believed there was a positive case to make for continuing the union.
He told presenter Gary Robertson: "We have shared institutions from the NHS to the BBC, to our armed forces.
"We have not just a shared history but I think a common bond.
"I think that people in Glasgow care about people in London who are in poverty and people in London care about people who are in poverty in Glasgow.
"We also have a shared interest, a shared economic intent and I am determined, along with a new Scottish Labour leader when that person is chosen, to make that positive case for the union because I think it is a case that is the right case and a case we can win."
Scottish Labour's current leader Iain Gray announced after the Holyrood election in May that he would step down in the autumn.
The process to choose a new leader has begun and three people, MSPs Ken Mackintosh and Johann Lamont, and MP Tom Harris, have already expressed an interest.
Mr Miliband believed that devolution had been good for Scotland and there was a stronger case for keeping the union than for breaking it up.
He explained: "Devolution has made the union stronger because it has given the opportunity for Scotland to have Scottish solutions to Scottish problems in the devolved areas, from education to health to a whole range of areas.
"It means that Scotland is not ruled, as far as the devolved areas are concerned, from the old Scottish Office in London and I think that has made the union far stronger."
The SNP government, which won a majority in the Holyrood election, has pledged to hold an independence referendum in the latter part of its five-year term.
Hold to account
When asked if he could work with the SNP, Mr Miliband said that when there were people "who agree with us we will work with them".
But he said he was unsure where First Minister Alex Salmond was on the economy, adding that "all he seems to do is boast about his Plan MacB".
Asked if he thought the SNP government had done a good job, he replied that overall the answer was no. He added that it was up to his party to hold Mr Salmond and the SNP to account.
The UK Labour Party will later wrap up its annual conference which has taken place over four days in Liverpool.