Goldie conference speech presses Salmond on referendum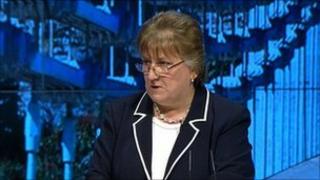 The outgoing Scottish Conservative leader Annabel Goldie has used her speech to the party's UK conference to challenge Alex Salmond to name a date for an independence referendum.
She also told delegates in Manchester that the first minister was peddling an "odious cocktail" of grievance.
Prime Minister David Cameron has said political parties should unite in their support of the 'No' campaign.
He said the independence issue was bigger than one person or one party.
In her final conference speech, Ms Goldie accused the first minister of engaging in an "odious cocktail of grudge, gripe or grievance".
She said the SNP leader manipulated arguments with the UK government to "facilitate his march towards independence".
Ms Goldie also pressed the first minister to set a date for a referendum, saying: "Well, if only he would get on with his separation referendum. So that Scotland can speak. And vote to stick with England, Wales and Northern Ireland.
"If only he would say what the question will be. So that Scotland can answer it.
"And if only we could put this constitutional turmoil to bed."
In an interview with political magazine Holyrood ahead of the conference, Mr Cameron said it would be a mistake to let party politics get in the way of a 'No' campaign.
He said that while he accepted that "Alex Salmond is the people's first choice - at present - to be Scotland's devolved first minister" that did not mean that Mr Salmond had "a majority of wisdom".
Split 'betrayal'
Ms Goldie announced she would be stepping down as Scottish Tory leader after the party's poor showing in the Holyrood elections in May.
Four candidates - Jackson Carlaw MSP, Ruth Davidson MSP, Margaret Mitchell MSP and the party's current deputy leader Murdo Fraser - are vying to replace her.
Scotland's only Conservative MP David Mundell has given his backing to Ruth Davidson.
He said Mr Fraser's plan to split from the UK party would amount to a betrayal of voters in Scotland.
"What we need to do is rally round the Scottish Conservative and Unionist party and build it up," he added.
Meanwhile, Mr Fraser has outlined the core values and aims of his proposed new party, including putting Scotland first, strengthening the union, high quality public services and extending economic opportunity.
Mr Fraser said: "Although distinct entities, we would fight UK and European elections on a joint platform and take the Conservative whip at Westminster and in the European Parliament."
A list of potential names for the party has also emerged from activists.
It includes The Scottish Unionists, Scottish Reform Party, The Scottish Progressives, Progressive Conservatives, Scotland First or Scotland Forward, and Caledonian or The Caledonians.
The final candidate to declare, Margaret Mitchell, officially launched her campaign earlier this week.
Speaking at the event at Hamilton racecourse Ms Mitchell said she saw next year's local council elections as an opportunity for the Scottish Conservatives to build upon.