Scots Tory Party leader hopefuls take part in hustings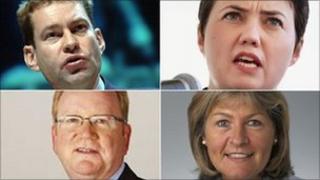 The four candidates vying to be the new leader of the Scottish Tories have been putting their cases to party activists.
Ruth Davidson, Jackson Carlaw, Murdo Fraser and Margaret Mitchell took part in the 90-minutes hustings at the UK Conservative Party conference.
The would-be leaders clashed about the future direction of the Scots Tories.
Mr Fraser defended his plan to form a new party with a new name, while the other candidates expressed their opposition to the idea.
Mr Carlaw dismissed the new party proposal as "preposterous".
Ms Davidson said although she was new to the Scottish Parliament she offered a fresh face.
Fourth candidate, Ms Mitchell, said the party had "failed totally" to hold the Scottish government to account and under her leadership the party would oppose new powers for Holyrood.
The hustings in Manchester came in the wake of Scotland's only MP David Mundell condemning Mr Fraser's plan to reform the party in Scotland.
Controversy was sparked in the election after Mr Fraser said the party brand was toxic and should be replaced with a new centre-right alternative.
Next week, ballot papers will be sent out to more than 8,000 Scottish party members, who will decide on which of the candidates will be their new leader.
The result of the contest will be announced on 4 November.
The election is taking place following a decision by current leader Annabel Goldie to step down.